The expulsion of Cary Ronald Smith and Alan MacDonald Kell from Sunderland College of Education - Langham Towers.
We were expelled for our activities outside college hours and premises - in attempting to form a Sunderland Schools' Action Union.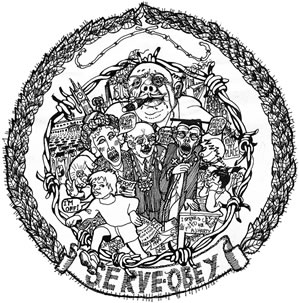 We handed out leaflets inviting pupils, parents and teachers to an SAU meeting to discuss democracy in schools and how to achieve it. We were expelled on the 25 December for violating three rules of the college:
Ignoring the Principal's warning that our college places were in jeopardy if we persisted in trying to form a school action group.
Creating ill feeling between our college and schools, thus damaging the relationship between student teachers and schools.
Giving the teaching profession a bad name (since we are trainee teachers).
We appealed to the Board of Governors who listened in a typically tea-party atmosphere. Although we apologised for our actions, they upheld the Disciplinary Committee's earlier decision. Our last ditch attempt was to get 700 leaflets printed at the Polytechnic, to be distributed at Langham Towers. As it happened a Union meeting was being held about choice of beers: this we leafleted and appeared to get an interested response. We hoped for a militant response from the college - as at Swansea College of Education. No such luck! The students who had promised to try to revive us gallantly appealed to the rest of the meeting but apathy at Langham overrules justice. The Union president said that nothing could be done (although he could have brought the Union out). Being members of the NUS we asked them for help, but they preferred to remain in the wings. (Aren't all unions supposed to support their members against victimisation?)
Neither of us was given a fair chance, though we apologised for our actions - we shouldn't have.
We are both now on the dole.