(Chairmen of firms either based on Tyneside or which have large-scale factory or shop investment in the area qualify for consideration in the top earnings league)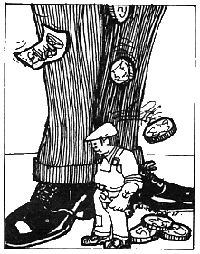 Biggest surprise so far in this year's top ten chairmen is Sir John Hunter who leaps into joint second place after awarding himself an 11% pay rise. Now on the £40,000 a year mark, Sir John is jockeying Lord Nelson whose giant GEC company acts as parent for Tyneside's Osram.
Another chart riser is colourful Alf Robens lured by Vickers from the NCB for a mere 30,000 greenbacks a year. Vickers are praying that Lord Robens will do something about the catastrophic slide of trading profits by 25% between 1969-70.
But there is still nothing to touch the fabulous F D Nicholson, also a director of Hepworths and Guardian Assurance, who paid himself more than £1,000 a week in the last financial year.
And with characteristic generosity, Nicholson waived a commission believed to be somewhat in excess of £10,000.
He decided to make do with just his salary and the £47,250 dividend he received from his personal holding of 289,348 ordinary and 60,889 preference shares in the company.
However, all 219 directors of Muther Grumble have refused both collectively and individually to disclose their unbelievable earnings during the past financial year.
| | | | | | |
| --- | --- | --- | --- | --- | --- |
| | Firm | Chairman | Salary | No of men | Ave salaries |
| 1 | Vaux & Allied Breweries | F D Nicholson | £52,121 | 3,972 | £927 |
| 2 | Swan Hunter | Sir John Hunter | £40,000 | 24,979 | £1,360 |
| 3 | GEC (Osram) | Lord Nelson | £40,000 | Not known | |
| 4 | Taylor Woodrow | Francis Taylor | £35,967 | Not known | |
| 5 | Reyrolle Parsons | E T Judge | £31,000 | 22,962 | £1,393 |
| 6 | Vickers | Lord Robens | £30,000 | 35,722 | £1,332 |
| 7 | Marks and Spencer | J Edward Sieff | £28,080 | 34,372 | £1,000 |
| 8 | F W Woolworth | E L Medcalf | £25,432 | 94,222* | £632 |
| 9 | Scottish and Newcastle | P E G Balfour | £18,000 | 26,175* | £778 |
| 10 | Richardson Westgarth | A D Boyd | £15,518 | 4,305 | £1,693 |
| 11 | Fenwicks | Trevor Fenwick | £15,188 | 1,895 | £763 |
*Figure includes part-time workers