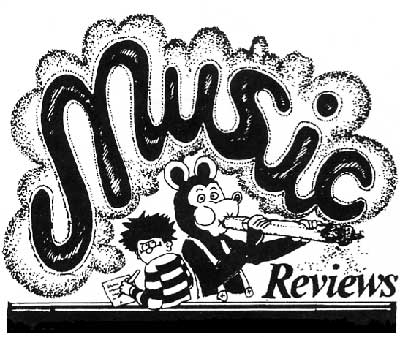 QUADROPHENIA
The Who: Track
It's insane to try and write about any record in only 150 words and it's even crazier to write about a double album in so few words. When it's by one of the great bands - one of the innovators of rock - when it's by the Who - then it's just not possible to do it justice.
Quadrophenia is what Pete Townshend has been building up to for years and it is the best thing the Who have ever done. Forget all about 'Tommy' - this is the big one. It's like the 'great American novel' in size. It's fucking huge in its scale and you realise just how amazing they are. There are numerous reviews so you should know what it's about and anyway I don't want to drag it down by talking about it.
This is it! The Who stand out above all other English bands. Like Pete once said: "I can see for miles and miles" and he obviously can. This you must have. If theft is the only way then theft it must be!
LOVING AND FREE
Kiki Dee: Rocket
I always was an easy touch when it came to chick singers that were either breathy or double tracked. I realise that it's a perversion. I know that it all belongs to the time I used to mime to Elvis and Jerry Lee in front of a mirror in my bedroom but I really was a sucker for all those fina ladies. I can't be objective about this record because it makes me feel nostalgic.
Rocket is the Elton John label and most of the people on this have been on his records. Her voice reminds me of Jackie de Shannon and that can't be bad.
I love it! I'm crazy about her voice but then I always was that way inclined. Come back Brenda! Come back Connie! Robot man on into the night! Whatever happened to Muscle Beach Party? So nice to be reminded about that part of my youth. Five stars all the way.
BAREFOOT JERRY
Warner Bros
Area Code 615 made two albums and everyone liked them. When they split up Barefoot Jerry happened. It was made up of some of the members of Area Code. Two out of this four were in the other band but only one of them (Wayne Moss) was in Area Code. So, as you might expect, this is a little bit different. I find the changes an improvement. They are less country than their predecessors but not quite a rock band ... a nice balance somewhere between the two. They won't be enjoyed by country fans because the drummer uses sticks and not brushes (and they use a moog) and rock will not be able to place them in an easy slot so I suppose that leaves them out on a limb as far as this country is concerned. In the States they are known and respected so that problem shouldn't arise.
The phrase 'laid-back' has never been defined but it sums them up exactly, warm and relaxing music that makes you smile when you hear it.
CHILD OF NATURE
Jack Traylor and Steelwind: (RCA) Grunt
Well, here's another offshoot band, this time from days of the Jefferson Starship. Also appearing briefly on the album is another well known keyboard player, Dave Frieberg of Quicksilver.
The main lyrical theme running through the album is as the title suggests one of conservation. The title track unfortunately tends to be one of the weaker tracks but if you manage to listen this one through then things tend to get better.
The basic Steelwind line-up on the album is Jack Traylor, guitar and vocals, Craig Chaquico lead guitar and mandolin, Danny Virdier bass and vocals, Skip Moriarty flute, guitar and vocals and Diana Harris vocals and piano. As the band's name suggests the music is steel provided by some excellent lead guitar, some not so startling bass and rhythm and wind provided by Skip Moriarty's extremely competent flute passages. Good vocal harmonies are achieved throughout the album with Diana Harris coming in for special praise. It's very obvious that lead guitar and the vocals of Diana have strong Airplane / Starship roots.
On the whole a pleasant enough album not really strong enough to get enough airplay on the rock programmes but well worth a listen. Then you decide.
STEVE MILLER BAND
The Joker (Capitol Import)
Well, here's the long awaited new album from the Steve Miller Band and when they produce something like this then it makes that wait worthwhile.
A good opener to the album 'Sugar Babe' features brilliant guitar riffs from Miller, backed up by a strong foundation of sound from Johnson's bass and Thompson's organ work. This number really gets rocking and is the perfect opener to this exceptional album.
Letting the side run through to the last track 'Your Cash ain't nothing but Trash' - a goodie, proves what a very competent and versatile band this is.
Side two opens with the single (A side) and title track 'The Joker'. Here's Steve claiming his 'space cowboy' title. A carefree number interspersed with some brilliant guitar wah which is not as in most cases with other bands overdone.
'Something to Believe in' finishes this side and exposes the band's country roots. Sneaky Pete Kleinow is featured on pedal steel guitar giving the track a Garcia / New Riders feel. A love song possessing Miller's tender picture vocals full of refreshing streams and lakes. This has to be one of those last at night tracks with its lazy phasing and floating pedal steel.
After you've played this it's gonna be a hard one to follow so why not just turn it over and start again.
WAKE OF THE FLOOD
Grateful Dead: Warner Bros
Amazing things do still happen. I turned on my radio and there was a new Grateful Dead album ... and it is really something. On their first studio recording since American Beauty and the debut album of their own label, the Dead have produced some beautiful music. Adding trumpet, trombone, violin, timbales and saxophones to their own inimitable sound, the Dead are fuller, freer and sunnier than ever. Garcia's guitar work gets better and better still as do Robert Hunter's lyrics, while Martin Fierro and Frank Morin blow some really fine saxophone solos, especially on 'Weather Report Suite', which I consider to be one of the best Dead cuts ever. The album is so full of fine music it completely filled my head for a long time. It's very, very good.