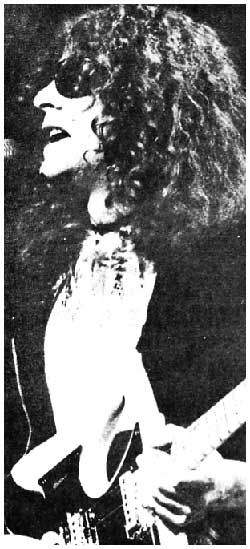 It's funny how some groups evolve. I know nothing of the origins of Queen, who opened the Mott the Hoople concert at Newcastle City Hall, but they came on like a cross between Black Sabbath and Alice Cooper, out to make money, and needless to say made a killing and were brought out for an encore. On the other hand, Mott the Hoople have had perhaps the hardest journey of all British top-line groups, so it was good to see a happy Mott take the stage and storm through a hot and drivin' set of rock & roll.
Although the band is naturally enjoying their current popularity, the past plays an important part in their minds (- the recent 'Mott' album can be seen as a saga of a second-rate pop group who never quite make it) and Ian Hunter dedicated a couple of old favourites to "the few that have stuck with us through the bad times". Despite Hunter's past image, he came across as an extraordinarily compassionate man, both through his songs and his actions - how many other groups, after electrifying a concert audience to fever pitch, would say farewell by going down to the front of the stage and shaking hands with all those little girls who've been giving the bouncers a hard time ever since the set began?
Most of the teenies' attention was focused on Hunter, but the concert was a triumph for the whole band. Newcomer Morgan Fisher was particularly outstanding on keyboards and Luther Grosvenor (ex-Stealer's Wheel) metamorphosed well into Ariel Bender, ace guitarist a la Mick Ronson.
Mott certainly wouldn't be here now without David Bowie's encouragement, but it would be grossly unfair to dismiss them as just another Bowie product (- Hunter himself has said the only thing he learnt off the guy was how to sing with an English accent). Their concert was far more successful than Bowie's last Newcastle gig - both in terms of the music and of audience reaction.
Quite where Mott will go from here, having at last risen to success on songs about their past failures, is hard to say, but perhaps the new single, 'Roll Away the Stone', is a pointer - joyous rockin' music which captures perfectly the atmosphere the band now generates live. As for the girl who hung off the balcony all evening clutching a Union Jack, god bless 'er.
Tristan