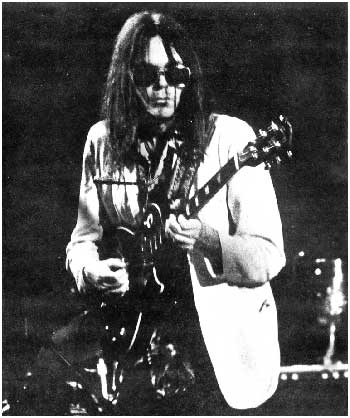 NEIL YOUNG, CRAZY HORSE AND THE EAGLES at Newcastle, City Hall
The most obvious thing to be said about Neil Young's concert is that the Eagles were excellent!
That does not mean that Neil Young was not good, in fact once he had warmed up and started to do some of his older numbers, he was very good. However, a person who has been a top class performer for so long, and is as well known as he is, is expected to be good.
Whereas, the Eagles are not as well known over here although they have been around a long time as well (Bernie Leadon, who plays guitar and red hot banjo, was once in Buffalo Springfield with Neil Young). They played nearly all the tracks off their two albums released over here and their performance was faultless.
Neil Young was backed by Crazy Horse who are very competent musicians (particularly Nils Lofgren on guitar). Neil started off doing new numbers that although good didn't get anything like the reaction that his earlier stuff like 'Southern Man' received. Possibly because that is what the audience went along to hear.
Anyway, it was an outstanding concert and I can only say that the Eagles are the best band I've seen this year.