THE KINKS AT NEWCASTLE CITY HALL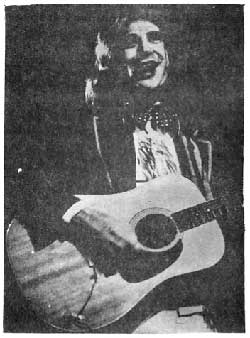 Ray Davies' recent claim that without him the Kinks would still be a first class band is hard to believe. For, apart from being one of the most penetrating of modern songwriters, Davies is also one of the great performers of rock: a gig by the Kinks is practically a one-man show.
Looking like some refugee from the British Music Hall, Davies sang, danced and fooled his way through 90 minutes of Kinks' hits and golden oldies. It was great to hear old numbers like 'Waterloo Sunset' and 'You Really Got Me' once more and, even nicer to see a band playin' and diggin' 'Good Golly Miss Molly'. And in the midst of it all Davies sobered things down to give out magnificent renderings of songs like 'Celluloid Heroes' and 'Sweet Genevieve'.
The sound wasn't perfect, the brass section being hard to pick out, but Davies was ably backed up by brother Dave and John Gosling in particular.
Raw Spirit opened the concert and proved competent but unimaginative.
Tristan