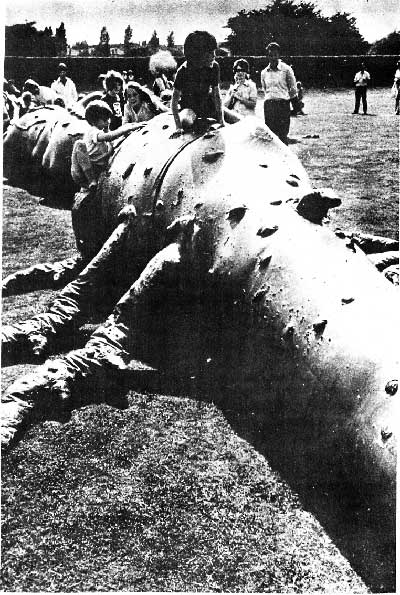 Summer is past and winter is pushing us back into our shelters. Now we'll have to play indoors maybe, but playing outside is great, makes you feel a happier animal.
Now in the streets there are puddles, the rain lashes the surface of the concrete road to a grey gloss.
There's a kid throwing bricks into a puddle; 'have you seen any bigger ones?' he yells. There are bricks everywhere and the whole estate is covered with scaffolding, with the watchtowers and outposts of the building contractors. It's a modernisation scheme. Turning the semi's into flats and pushing families out block by block.
No-one here thinks that it will improve life; pushing more people on top of each other so that more people have to use the already inadequate leisure facilities of the area.
The Lords would like to package the people and give them a real treat by building leisure parks.
But where will the children play?
They like the scaffolding, it's a great climbing frame, bits of it make good battering rams for a spot of amateur demolition. Kids climb over the carcases of empty buildings and start fires; it makes for a little more fun than throwing bricks into puddles.
There's a youth club but the authorities don't like the kids to get too near it in case they spoil it. (After all, it's nice to have these places to show your friends, and maybe make a little when you put the contracts out to tender ...)
Before they complain about the fact that someone keeps shitting on the steps at the back of the place maybe the powers that pee could open the bogs on the field which are usually kept locked.
Yes, the authorities are quite prepared to give ostentatiously but don't like the people to take. That's all right though - people don't want to have their leisure spent for them. But the people have time and so must have facilities. The area is marked out for special community development by the Home Office and the project that has been set up there to help the people get what they want. Forming tenants associations, and doing things like having the Meadowell Community Festival.
Along with a Mini Jazz Band rally and Rock Bands playing thro' the weekend, Spectro Arts Workshop from Whitley Bay turned up to play with the kids.
Playing with Kids isn't all that easy either. Unlike a lot of conditioned adults, kids can't be told what to like and what to enjoy.
It was a lesson for all the Arts Workshop crew that kids would do what they liked: Jo and Alan Davies from London brought gas-filled weather balloons. The kids brought knives and dog ends. They who work hard want to play hard and the kids really wanted to do things - but they had the right to say what sort of things. Maybe one of the most successful things was Jules Baker and his inflatable monsters. These were thrown, rolled and bounced all over the field. The most enjoyable things were the unofficial sort of events. Next time the Kids themselves should get it all together.
The fire brigade sprayed foam into an enclosure and kids covered themselves in it and in paint. The only thing that caused complaints was when a gorilla like monster appeared on the youth club roof and sprayed people below with a foot long rubber prick. Every parent present expressed anger about this, but otherwise the festival was great.
There have been other festivals this summer and each has been different; Whitley Bay kids were not as cramped as the North Shields kids and so wanted different sorts of games.
But we all need to play, to find our own games. Games help us relate to each other and to our surroundings. If anyone wants to help play with people and to be played with, or has any experience of street theatre, kite building, kids or enjoying themselves they could contact Spectro Arts Workshop, Station Road, Whitley bay, sometime ...