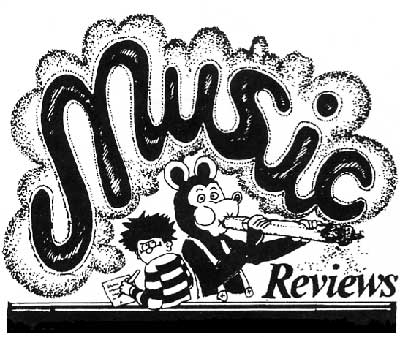 VAN MORRISON - HARD NOSE THE HIGHWAY (Warner Bros)
According to Morrison's press officer - which is the nearest most people get to the man - Van Morrison does not want to be a figurehead, he is quite happy to be the singer with the band. Those of you who were lucky enough to see him in the City Hall, N/cle will appreciate that fact from his deadpan performance.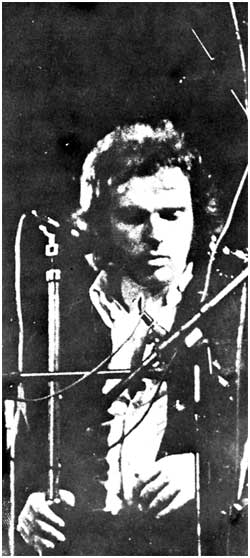 In this his new album he comes across as just that. He has surrounded himself with a wealth of musicianship - segments from the Oakland Symphony Orchestra and some of the best session men around - and has produced a set that would be at home anywhere.
There are few examples of the vocal pyrotechnics to be found on say 'The Lion' on St Dominics Preview and unlike most of his earlier stuff his voice is mixed very much on the level of the other instruments. It's all very tightly produced - almost too tight.
The songs have become a little more bitter and world-weary when compared to earlier material and they culminate in the very bitter 'The Great Deception' which is a bitter attack on the disintegration of the idealism of 1967. As he has lived in Marin County outside San Francisco since that date he is well qualified to record this decay.
The only slight disappointment in the quality of the album is 'Autumn song' which starts well but wanders off into nothingness - by Morrison's standards!
Two of the songs are not original compositions, one 'Green' by Joe Raposo is included presumably because of its political and ethnic undertones - Morrison incidentally sounds very Ray Charlesish on this!
'Purple Heather' is an amazing version of the Scottish folk tune, 'Will he go lassie go'. It sounds rather weird with an American accent but it's a good track for analysing Morrison's style as other versions abound - sung in the more traditional way.
In all a good album but personally I like the looser tongued Morrison and I await the next album when he has got this one off his chest.
Rik
'FOREIGNER' - CAT STEVENS (Island)
'ROGER McGUINN' (CBS)
Towards the end of last year both Cat Stevens and Roger McGuinn said goodbye to highly-praised musical outfits in Stevens' case his association with Alun Davis and producer Paul Samwell-Smith; in McGuinn's case The Byrds) and went out on their own. 'Foreigner' and 'Roger McGuinn' show the results of these splits.
'Foreigner' comes as a sad disappointment, especially after the breakthroughs - both lyrical and musical - of the 'Catch Bull At Four' album. Stevens' lyrics have always suffered from a certain naivety (although there have been exceptions - 'Father and Son' and '18th Avenue' for instance), but never to such an extent as on the new LP. As often as not his words come over as jaded clichés as well. The best/worst example on the album is 'Later' which has a fine 'Shaft'-like backing abruptly broken in the middle so that Stevens can fervently intone "Darling, I love you" into the microphone. 'The Foreigner Suite' is more successful, but too often Stevens comes on like a babbling maniac or you come across lines like "Love, love, love, love must've made you on a Sunday / Cos you taste to me good as God many honey taste babe" or "I've seen many other girls before, ah, but darling / Heaven must've programmed you". Stevens' habit of repeating words ad nauseam is also given full rein.
Cat Stevens has said that he wanted to make an honest album with 'Foreigner'. John Lennon successfully managed this with his Ono Band recording, but Stevens has not yet achieved Lennon's lyrical maturity or clarity and his effort can only be described as excruciating.
The first solo album from Roger McGuinn is excellent, however. McGuinn prefers not to go in for the usual singer/songwriter in-depth confessions, but rather presents a collection of fine songs well arranged. The only number in which McGuinn gives a clear insight into his personal feelings is the opener 'I'm so Restless', in which he informs Dylan, Lennon and Jagger in turn that he understands their musical viewpoints but doesn't want to tie himself down to any of them. Somewhat ironically, harmonica on this track is played by one Bob Dylan.
Assisted on other tracks by musicians such as David Crosby, Chris Etheridge, ex-Beach Boy Bruce Johnston, Spanky McFarlane and Charles Lloyd who gives out some superb sax playing), McGuinn not surprisingly covers a wide spectrum of popular music - rock, traditional folk, country and western and blues - most of the numbers being self-penned with Jacques Levy. It's unfair to pick out individual tracks because the overall standard is so consistently high, but for those disappointed with the much-maligned reformed Byrds album, 'My New Woman' on the McGuinn LP features the same line-up and is far superior to anything on the Asylum recording.
Whether or not the Byrds leader returns to a group format, 'Roger McGuinn could in the future well be looked upon as a classic album.
HISTORY OF THE GRATEFUL DEAD VOL 1 (Bears Choice) Warner Bros
All but one track on the album are never before released numbers from the Dead. The album was recorded back in 1970 at Bill Graham's Fillmore East. Bear's Choice is so called because Bear, roadie and friend of the Dead from the 'Acid Test' days, selected the tracks from the recording. As usual after one of our rock and rollers passes over, so comes the rush of unreleased material and soon (you bet) an anthology.
Side one of Bear's Choice starts with a Pigpen mediocre blues number 'Katie Mae' at which even dedicated 'Dead Heads' were heard to murmur "Ooh sheet". 'Dark Hollow' follows on this acoustic side of the album and Garcia after a rather discordant start eventually finds the right key for the harmony with Bob Weir. So far not a particularly impressive start, and I'm afraid there's not much change on this side, even the Everleys' 'Little Susie' falls rather flat due to the weak vocals Garcia and Weir produce. A track from 'Workingman's Dead' closes the side and quite honestly this finish with 'Black Peter' leaves you wondering what it was about the Dead that you used to like.
Side two, the electric side, is a little more pleasing as the Dead get into 'Smokestack Lightnin' which, although it tends to get off to a rather slow start, soon takes off, providing an eighteen-minute rendering of this classic. Otis Redding's 'Hard to Handle' develops into one of those meandering jams so typical of the Dead.
Definitely not one of the best albums from the Dead although side two does help to redeem them from the depths of disaster.
WISHBONE ASH - ALBUM NO.4
On stage Wishbone Ash must be one of the more exciting bands in the country - "you just push the thing as far and hard as you can" (Andy Powell in 'Sounds' last August) but if you're expecting the same kind of excitement in this album - forget it!
With the exception of 'No Easy Road' and 'Everybody Needs a Friend' this album is very pedestrian stuff. There is little of the piercing dual guitar work of Ted Turner and Andy Powell and as a whole the album sounds like a clockwork toy - running down at that.
At the moment Wishbone are mixing a live album - some recorded in Newcastle - which should be worth waiting for. And I leave you with another quote from Powell, "If you wrote purely for albums it would be a disaster" - nuff said!
THE SMOKER YOU DRINK, THE PLAYER YOU GET - JOE WALSH (Probe)
Here's the second and, for me, long-awaited album from Joe Walsh (leader of the old 'James Gang'). A new addition to the band, Rockie Grace (keys) joins 'Barnstorm' former members Viz Kenny Passarelli (bass), Joe Vitale (drums, flute, keys and synthesiser) and, of course, Joe Walsh (lead guitar, keys and synthesiser). All members participate in producing the vocals.
Bill Szymczyk who produced the 'Barnstorm' album also handles production here, and manages to manufacture some marvellous electronic effects - as is demonstrated on 'Rocky Mountain Way', with an amazing guitar solo from Walsh. 'Midnight Moodies' features a Vitale flute riff, which is taken up by Walsh's lead and snapping cymbals and pumping precise drum patterns. Passarelli's bass riff comes in changing the tempo, Walsh comes in on acoustic guitar and they're into a dynamite 'Happy Days'.
Unfortunately I'm now running outa space but side two is every bit as good as side one which produces one of the year's best rock albums.
MARLENE - KEVIN COYNE (Virgin single)
This is the first single to be released on the Virgin label (thus the review) and very nice it is too. Good acoustic guitar and a sort of Van Morrison voice are its credits. Personally I prefer the B side 'Everything Says'. Incidentally a South Shields lad, Gordon Smith, is backing on electric guitar.