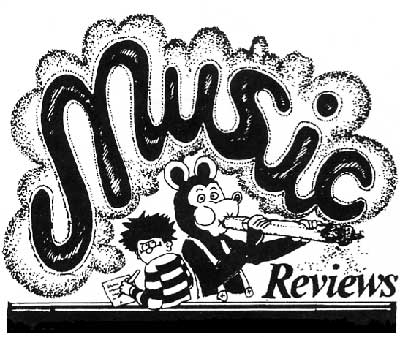 GEORGE HARRISON / LIVING IN THE MATERIAL WORLD
GRACE SLICK, PAUL KANTNER, DAVE FRIEBERG / BARON VON TOLBOOTH AND THE CHROME NUN
MAHAVISHNA JOHN McLAUGHLIN, CARLOS SANTANA / LOVE, DEVOTION, SURRENDER
It is impossible to 'review' these albums. Three groups of musicians, spirits stirring, beings reaching out to us all through thin slivers of black plastic. Music that calms and soars, relaxed and rocking, restrained and roaming free. The musical styles are predictably consistent with the broad bases that all of them have used individually in the past, and they're growin' all the time.
The music press have given us the shit about Harrison's "prolonged absence from the scene", well, what is time and can you give me love, give me peace on earth. He has long vaulted the high wall of inhibitions and floats out his feelings from experience straight out of his love for everything and how he's makin' out, living in the material world. Acoustic chord change rhythms and guitar flyin' thru the vocals like a bird that's got off the wire. 'Sue me, sue you blues' laments the Beatles involvement in the farce of capitalist justice, and you can follow through George's life-trail in the title track. The feeling in the lyrics is the feeling of the sounds and the feelings in is heart are in every human heart. It feels so free when a human heart opens out so beautifully.
The music press have also gone beyond themselves in shining superlatives on the new album from the Airplane community, saying this is the best album out of the west coast for ever, etc, etc, etc; wonder what the hell they've bin listenin' to over the last ten years. However, it is certainly the strongest collection of songs that have come from Grace and Paul and Co since 'Blows Against the Empire' and 'Bark'. Grateful for Jerry Garcia's familiar flying flame burning over the top of most of the tracks and the Jefferson Starship is back in the zonosphere whirring in space and diving along in the rhythm ranks' vanguard of the revolution. James Taylor(?)'s 'Flowers in the Nite' is the climatic meeting point of centuries of English folk reel song and west coast space-rock and '... leave your body' really does ...
McLaughlin and Santana. Sri Chinmoy. Love. Devotion. Surrender. They sing to each other from opposite speakers, birds of paradise high, high up in the still treetops. The jungle beneath them is depthless; Billy Cobham, Don Alias, Jan Hammer all on drums; Doug Ranch, bass; James Mingo Lewis and Arnanda Peraza, conga; Larry Young, organ. 'A love supreme', 'A life divine': Love; Devotion; Surrender; if you know their other albums, you'll get this one. If you don't forget the price of food, surrender, and live on brown rice and the music of these deep, deep rivers.
Three albums is a lot of bread; but listen for these before you blow it all on one more Saturday night or a plane ride from Majorca to Marrakesh. Live a love-life and the sounds goin' around.
---
MESSIN - MANFRED MANN'S EARTHBAND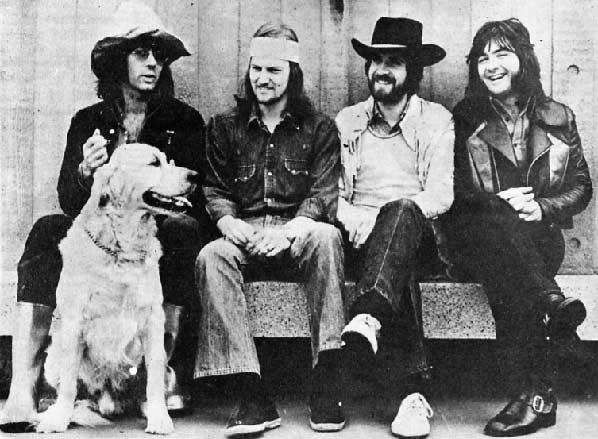 If you haven't really been keeping track (sic) with Manfred since the days of Paul Jones, Mike D'Abo and the hit singles then this album's gonna come as quite a surprise after the Manfred Mann Band disintegrated came Chapter III who went almost unheard.
The new band line-up features Manfred on organ and synthesiser, Mick Rogers on guitar and vocals, Colin Pattenden on bass guitar, and Chris Suade on vibes and drums. Earthband have been touring the States and have as yet had little exposure over here in Britain, I'm quite sure that this will change though as soon as the British tour (soon) gets underway.
Messin, the title track, has an ecological theme and provides good lead vocals (nice and clear) and some excellent harmonies from the chicks doing the backing vocals. It starts kinda slow and heavy and then is broken by some very competent lead guitar which Manfred throws a web of sound around with some beautiful synthesiser. Wow, that's quite a start and a very refreshing sound. Incidentally this track was unreleased Chapter III material and was penned by Mike Hugg.
Buddah opens gently with basically guitar and vocals exploding into sound before returning into the slightly harsh vocal work again. However this doesn't deteriorate the quality of this number. (Some nice stereo effects especially where the organ is featured - moves your brain a bit).
Side one closes with Cloudy Eyes which, quote is 'A theme written by Manfred for an uncompleted musical' - let's hope he gets it finished. The total time for this side is approx 22mins - I only mention this as it does piss you off a little when you spend £2 on an album where both sides total to only slightly more than 22 mins. Here comes the argument well you see you either have quantity or quality, but I'm glad to say this album has both.
Side 2 opens with an old Dylan number 'Get your Rocks Off' - which as you know leads to a healthier and happier existence. The side closes with a Dr John number 'Mardi Gras Day', on which Mick Rogers achieves a very good Dr John mimic. This side of the album measures up to the competence of the first side and therefore I strongly recommend that you go into your favourite friendly record dealer and get yourself an earful.
---
NEWCASTLE VIRGIN PRICES
George Harrison £2.15p
Slick / Kantner £2.00p
Santana / McLaughlin £2.30p
Manfred Mann £2.10p
DURHAM DISKOUNT SOUNDS PRICES
George Harrison £2.20p
Slick / Kantner £2.00p
Santana / McLaughlin £2.25p
Manfred Mann £2.10p