You Broke my Heart so I Bust your Jaw: Spooky Tooth, Island
This is Spooky Tooth's first album since reforming and my initial reaction was a comparison with Traffic. The funkier tracks, like 'Cotton Growing Man' and 'This Time Around', have a definite Winwood feel to them, although after sustained listening this becomes irrelevant, nay! Untrue, the album moving along on its own merits. Listen to it when there are large roll-ups trucking around Moriah. Well worth buying but I suggest that you listen to it first, as it appears to provoke mixed feelings.
Mark Almond - Rising Harvest
A hard LP to review because Jon Mark and Johnny Almond have tried to cover three different areas of popular music.
'Riding Free' on side 2 is best described as a cross between Chicago and Malo, rhythmical Latin American sound with a fuzzed guitar providing a contrast to the brass section, exciting and totally unexpected.
'Organ Grinder' and 'What am I Living For' are fairly straightforward pop songs, well produced, but not very original and not really providing the best sort of material for Johnny Almond's amazing saxophone playing.
The remainder of the tracks are very gentle introverted songs with wandering sax solos and flute passages. These are done so much better than the rest of the LP, that it seems difficult to understand why the other kinds of songs were attempted.
Paris 1919: John Cale, Reprise
Surrounded by unimpressive and boring music on all sides - the new John Cale burns like the light of brilliance it is.
The distance between what he did with the velvets and what he's done with Terry Riley is quite great - but the distance between things like Sister Ray and what he is doing on his own is enormous. Those of you who have heard 'Academy in Peril' will find this a logical step forward - but those who haven't may have slight difficulties.
The album is made up of nine tracks of very carefully constructed music that are linked both by their subjects as well as their tonal qualities. He uses a large (ish) orchestra as well as a small group and the balance between the two indicates the abilities he has concerning arrangements. Like small pieces of light dropped from various heights onto bottles of (Pernod?) ... without the great sparseness he brought to the Nico albums. Two of the best: Andalucia/and/Macbeth ...
"castles and Christians
Andalucia is coming to stay"
FOR A MILLION YEARS - BUT THEN HE'S ALREADY THERE.
Tubular Bells: Mike Oldfield, Virgin
Any record that is the sole product of one man is a difficult instrument. It usually sounds like a one man band that doesn't quite make it. It usually lacks that force that exists when people play together and to each other. Happily this record is not lacking in any of these things.
I don't know anything about either Mike Oldfield or this record other than what is on the sleeve: his name, the name of the music, the instruments, he plays (about sixteen) and that Viv Bonzo and a couple other people are slightly involved. It reminds me (in the nicest possible way) of Terry Riley (very slightly) as far as the repetition of the main theme is concerned.
If this and the other records that have already been released by Virgin are an indication of what they intend to do, then it's very possible that we actually have a record company on our hands that has a large amount of taste.
This record can't sell more than a few hundred copies which is a very great pity. Recommended to anyone who feels tired of Slade, Poxy Music, David Bowie and all of those flash cunts who have little if anything to say other than glitter and volume. Honest music.
If it was so Simple: Long Dancer, Rocket
I'd never heard of Long Dancer, so I had no clues other than that Ian Matthews of Matthew's Southern Comfort had a hand in the production.
His influence is apparent throughout the LP. There are loads of close harmonies and soft acoustic guitar solos, and many of the tracks sound as though they were originally intended as folk songs for solo singers. Anyway enough of the analytic crap. This LP is one of the most soothing and relaxing I've heard since ma got her tit caught in the washing-machine mangle.
The lyrics look a bit pseudy if they're only read on the cover and not listened to in context. The best track, if it's possible to extract one from an LP without a single bummer on it, is 'Don't Turnout the Lights'.
"And you can't believe your feelings
And you can't hold up the world
And it all seems slightly average
And the tunes don't fit the words."
NOTE: Andy hadn't heard of Long Dancer but I have. In fact they are all local lads from Sunderland, and very good they are too.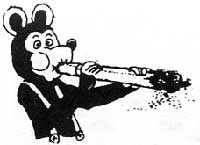 30 Seconds over Winterland: Jefferson Airplane, Grunt/RCA
This is the Airplane's second live album in seven years (the other one is 'Pointed Head') and it goes a long way to relieve the disappointment of 'Long John Silver' recorded at Bill Graham's Winterland in San Francisco and a later gig in Chicago. It shows just how good this band can be live. The songs are mainly from Bark and Long John Silver with only one unreleased number 'Have you seen the Saucers', which opens side one. The other tracks are 'Feel so Good', an eleven minute version with Jorma and Papa John screaming away in the background; 'Crown of Creation' brings side one to a close with Grace and David Freiburg (ex Quicksilver) sharing the vocals, bringing the Airplane back to a similar line-up as in the beginning when Marty Balin was male lead.
Side two starts with 'When the Earth Moves Again' from Bark, and then three tracks from Long John: 'Milktrain', 'Trial by Fire' and 'Twilight Double Leader'. Good as these tracks are, they are weak songs compared to the excellent side one, especially 'Feel so Good' which shows that Jorma, Casady and Papa John, the nucleus of Hot Tuna, are the only innovators left in the band. Grace sings well but she doesn't wail like in the old days (see 'Pointed Head') and Kantner writes increasingly more obscure songs - the clarity of Starship was muddled somewhat. Nevertheless this is a really fine album and as soon as RCA begin to import it in bulk, try to get hold of a copy.
Pete
Wait Till they Change the Backdrop: Johnathon Kelly, RCA
Although the album bears John Kelly's name and all his own compositions, he is joined by some twenty or so session friends. Gone are the days of the one man band - Kelly, now he uses ARP synthesiser, flutes, congas and has some excellent backing vocals provided by the infamous thunder thighs (transformer).
The first side of the album I like very much and the second side I find very pleasant. Orchestral arrangements adding a positive fullness which is interspersed with some good rockin funk.
'Godas' is another classic for John and will be remembered as one of his finest compositions along with 'The Curse of Anna' from the first album. I really like his little stories.
The Bandits, played by the Sutherland Brothers, ride out of town after a big shoot out and as they gallop across the desert sands this mysterious guy Godas who has a phased voice) appears. Godas sings and plays his flute telling them to gather round and listen. He tries to explain to them that it's just a little bit uncool to go round shooting people and that they really ought to try to live in peace and harmony. The bandits apparently scoff and disbelieve Godas and reckon that they're being tricked. So after a lotta trying Godas decides that he's getting nowhere and that people like these selfish bandits are better off as pillars of stone.
This one's certainly worth a listen and is surely a must for all John Kelly fans.
Virgin Prices
Jefferson Airplane £2.85 import
Spooky Tooth £2.00
Long Dancer £2.00
Mike Oldfield £2.00
John Cale £2.30 import
Johnathon Kelly £2.00
Mark Almond £2.15