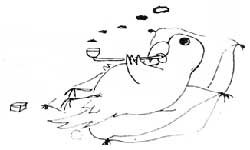 Out of the frying pan
More wheeling and dealing by the Labour Party in Chester-le-Street; what will they come up with next, we wonder?
Their new candidate for the Chairmanship of the Rural Council looks as if he's going to have the same rating on the scandal scales as another of their wonder boys - dear old Andy.
It looks like the nomination of Bob Urwin as Labour candidate may very well be cancelled, for the old familiar reason. A group of councillors were considering cancelling the nomination, depending on the results of an annual meeting, when Mr Urwin will be asked to explain just exactly what his connections were with the affairs of a certain Wakefield architect - a Mr John Poulson. Although they face strong opposition from some members who believe that the unity of the party should be maintained (at all costs?), one Labour Party member said, "... There seems to be an undercurrent of feeling that he is not the correct man ..."
£400?!!
Did you see the spectacle in Durham Market Place with councillors trotting around guarded by men in funny dresses with pikestaffs? It was all in aid of making Ald Mrs Blyth Freeman of the City, AND IT COST THE CITY COUNCIL, WHOSE CURRENT EXCUSE FOR DOING NOTHING IS THAT IT'S BROKE, £400.
Behind the scenes at the £400 extravaganza were many establishment councillors in a panic as they discovered that the new Bishop of Durham had come to watch Ald Mrs Blyth receive the freedom of the city. They had to alter their speeches to include the words My Lord in the list of dignitaries. Many back bench councillors were mickey taking Sam Green, a councillor and member of GLF.
Bill (I would not have him in my house) Hay "I've got to walk behind Sam".
Don Young "I've got to walk next to him. I wonder if he'll hold my hand".
Sam Green "As long as it's not Queens, My Lord Ladies and Gentlemen".
At which pathetic joke the councillors convulsed in laughter thus showing what kind of mentality they have.
George
George Turnbull of Durham Claimants Union and Muther Grumble may be councillor by the time you read this.
If elected he will be the first Christian Independent Liberal, Claimants Union candidate in the country. We understand he does not intend to form a new party but is just out for the good of his estate. If elected it will be the biggest blow to the Labour Party they have ever suffered in Durham and will show what can be done by someone with nothing but good intentions and a radical heart.
Lambton
Lord Lambton who lives just a few miles from here, deserves a mention. Hallo Lord Lambton and thank you for providing us with real proof that there are actually at least some live human beings who are quite normal, in the Houses of Parliament after all. We had begun to doubt it!
Police crowd
When Prince Philip visited Sunderland recently he was greeted by a large crowd ... of red faced policemen. Following rumours of a demonstration all police leave had been cancelled, there were extra police on duty and at the civic centre there were crash barriers all over the place.
So, when he arrived at the station there were more policemen than 'expected crowd' and by the time he arrived at the civic centre there were but a handful of people presumably hidden by the crash barriers. To be fair there was a demonstration later in the day, against his proposed visit to Portugal. Mind, the demo consisted of I believe 324 students.