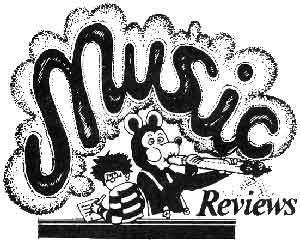 The Man from the East End Buddha Theatre (Island)
This is one of those rare records that deny categorisation. By this time everyone has heard something about this theatre group that seems to have taken London and all the critics by storm ... well this is your chance to actually hear what everyone is freaking out about. AND IT'S NOT A CHANCE YOU SHOULD MISS!
The only thing to remember when you listen to it is that, in a sense it is a soundtrack. This is the music of the gig. If you saw Stomu Yamash'ta on television the other week you will know the kind of thing he is into as far as movement is concerned, but if you didn't, then the music, given a chance, will show you.
His roots are as western as they are eastern, and that amazing Japanese sinisterism lingers on long after the album is over. NOT TO BE MISSED - A GOODY OF THE FIRST ORDER!
Tony
---
For Your Pleasure - Roxy Music (Island)
Didja see Roxy at the City Hall. I did and didn't dig em but you obviously did! So reviewing this album's easy seeing as a lot of it was introduced at the City Hall.
I first listened to this early one morning and decided that it was not going on again. However, a friend casting a beady eye wandered to the turntable and then well ...
'Do the Strand' nice and loud, wow. Didja see Roxy on Top of the Pops, Eno just stood and looked pretty, but as you'll see he does earn his money. The last track is the one 'In every dream home a heartache' - a slow painful but audibly beautiful build-up from Brian Ferry's vocals into 'But you Blew my Mind' which Roxy Music do. (I get by with a little help from my friends.)
Side 2 starts with 'The Bogus Man' - an instrumental which does tend to lose both you and your attention. Anyway, just before I took it off it finished and I conclude that this track is repetitive and extremely boring. 'Grey Lagoons' brings with it a refreshing sound with its nice vocals, soaring lead, rocking piano and rude sax - wot more canna say? 'Music for your Pleasure' - eh that geetar ain't af like the Shadas (without Cliff). It starts slow and heavy and by the time it finishes leaves you wondering what sound can follow Roxy Music.
Hear this one, two times and then decide.
Andy
---
Dixie Chicken - Little Feet (Warner Bros)
Probably my favourite album at the moment. You can't stop yourself from jerking along with it. Splodge in a bath while listening if you can and you can imagine yourself in the Swampland of New Orleans. They actually sing a song called 'Fat Man in the Bathtub'. It's very difficult to describe an LP like this as each song seems so much different to the last one. It's good anyway so try and get a listen to it, though most record shops are a drag if you don't buy it after hearing two tracks. Should really be given away on the NHS as I'm sure it'll cure a lot of ailments, and anyway no-one's gonna buy it so they may as well.
Artsy
---
Journey - Kingdom Come (Polydor)
Arthur Brown has, for a long time, been one of the few people in this country capable of producing music that excited both body and head. With this latest album he has made his position even stronger - but perhaps I should start using the word 'they' instead of 'he' since this is by no means the product of a single man.
Everyone that remembers his first album, especially the variations on 'fire' will know what he is capable of as far as his voice is concerned - but it is with this record that the flashes that were in 'Galactic Zoo Dossier' begin to take shape.
For the first time he seems to have a permanent band that is happy with its music.
Not all of the vocals are taken by Brown but this in no way detracts from either his strength or the strength of those around him.
One of the best records by an English band in many moons and not to be missed by anyone who's into electronics. It's time Roxy Music listened and learnt how a synthesiser can be played and used by people who have a very large talent. BUY IT!
Tony
---
Byrds (Asylum)
Back in 1968 when Crosby was sacked from the Byrds, McQuinn said he'd never play with him again. Well they're back (just for one record though), Mike Clarke, Gene Clark and Chris Hillman too. The five 'originals' are given the credits on the sleeve although I know Dallas Taylor plays on the album and I suspect there's others, but not being Original Byrds they don't get a mention. Well tough shit, I guess it's a nice album though it idles away the day in much the same way as the Burrittos did, or still do, in my case. One of the tracks - can't remember which one right now - sounds like the Byrds of 1968 jingle-jangle. The rest, nice easy country music. Lay down behind the barn, light your pipe and dream of girlies tight knickers. Ah well that's life or so they say. What? I'll give it foive.
Artsy
---
Clear Spot - Captain Beefheart (Reprise)
Guess this review's a bit late but as the Captain and his magic band are touring then we decided to give you some guff about the latest album. If you saw him last Saturday then you'll know what it's about, if not then ...
It's certainly the most accessible record he's done so far, with the possible exception of Safe as Milk. Previously his material has been such that Beefheart only appealed to a fairly narrow section of the community. Clear Spot makes his ideas more visible and seems to be an extension of the Spotlight Kid. The music is much more rhythmical and even includes what could be called a love song; the tracks that stand out tho' are 'Clear Spot' and 'Big Eyed Beans from Venus'. Beans from Venus features Mr Zoot Horn Rollo who, in Van Vliet's words plays that "long lunar note that floats". A mind-fuck in anybody's language.
Phil
---
Virgin prices
Journey £2.00
Clear Spot £2.15
Roxy Music £2.00
Byrds £2.15
Man from the East £1.75
Dixie Chicken £2.00