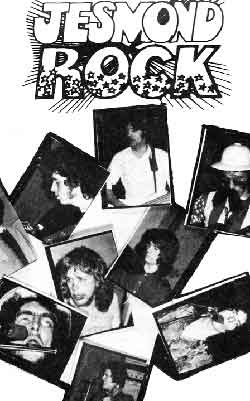 Jesmond's local electric talent was exposed to the blue and red lights of the university ballroom some weeks ago in what was surely a triumphant affirmation of the existence of original and exciting new music. It's a censored pity that the only places that this sort of thing takes place in these days are within the walls of exclusive posh university city. On the other hand I got in so a non Mr Exclusive can gain entry if you're a friend of a Mr Exclusive (apologies to student friends). Anyway, after bartering with porters etc one filters through and emerges as the hallowed shrine. First off are the Drifting Robots "Sunlight, Silver, Moonshine Gold, we're writing this letter to you" ... Four pieces of human engineering, Timmy and Chris on guitars and harmonious voices, bass and drums - 'Macka' and Norman. Metallic boogie lorries Chris plays metallic icicle spindles on his home grown special guitar. Timmy metallic mellow telegraph lines and it is all working out very urban in black white electric blue and silver, all are hopping, flash, bulbs are popping, intellects are stopping, suicide rates are dropping and people are even beginning to flood in from the bar.
Timmy announces "Spoof Spruce and the Space Boys the best group in the world". Blushes all round but nobody laughs, straight into Herbert Renalto sitting in a cafe drinking Turkish coffee turning my collar like a James Dean movie da da diddle diddle da Denis code name Herman introduces the band Jasper on vibes Mark code name Orge on daring home assembled Hofner Baldwin Egmond Wah Fuzz classical guitar, Binky on Safari with suitable hat, stripes clown make-up and excellent fender tone Maurice on accurate, neatly drums. Vibes sound electronic nosecone lollipops these boys are from the 21st century the singer is a giant there is inter galactic counterpoint here it's eminently danceable and cerebral too.
Mention must be made of the signature tune Spoof Spruce and the Space Boys: it seems that these 21st century mods on gold metalflake rock-ette scooters buzz the regular flights to Venus: Spoof Spruce and the Space Boys don't you know there is an earth to land on? You can't go drifting round the sky! (Herman and Orge admonish sternly) don't you know there's everything the mind can conceive?
I understand the Robots are currently doing some demos with a view to recording which is interesting news. Robot music seems to stick in your head which, I would think, is a good sign. Jesmond's group demonstrated that they are worthy of wide exposure. Both groups play all original material Timmy and Chris have been writing great songs for years, and must have enough material for lots of LPs. Spoof Spruce seems to have a lot of material ready and I would tell you that they could well be the new Beatles except you would spit in my eye. A prophet is without honour in his own country (sniff). Still one mustn't end the article with tear stains. Ta Ra then.
Mike Maurice