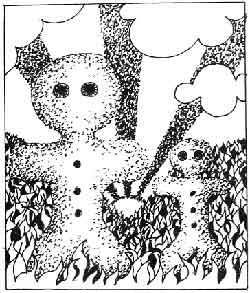 Gingerbread is an association for one parent families - that is, any parent, whether single, separated, divorced, widowed, or whose spouse is seriously disabled or absent for long periods (perhaps in prison, hospital or abroad), who is bringing up a family single handed. It was started only three years ago in London but already there are over eighty local groups in the UK.
Until a few weeks ago, the nearest group to Newcastle was in Stockton on Tees, but at the end of last March, Tyneside Gingerbread was launched in a private house in Jesmond, when 25 parents many accompanied by their children, met on a Sunday afternoon to discuss their problems, meet others in similar situations, and to see what can be done to improve their lot.
Gingerbread has a twofold aim: first, to promote friendship, sympathy and encouragement, mutual help and support and the formation of self-help groups; second we will try to provide more practical aid, such as the setting up of child minding registers, clothing and toy pools, and advice on welfare and other social problems. We hope soon to have a full calendar of activities for both parents and children. We found that the two commonest problems faced by one parent families are loneliness and isolation, and the difficulties posed by school holidays; but other ugly situations, such as trouble with finding decent accommodation, were raised too frequently.
If you think Gingerbread can help you, or if you would like to help Gingerbread, do get in touch with Brenda (tel 815567) or Penny (52a The Avenue, Wallsend). One of our ultimate hopes is that the Tyneside Gingerbread group becomes big enough to allow area subgroups to be effectively formed. Meanwhile we need babysitters and child minders, children's clothes and, of course, money - Gingerbread charges no subscription. Also wanted are people with cars who'd be willing to take kids out.
Brenda