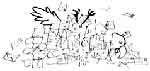 Dear Muther Grumble,
Your recent article on Finchale Priory caravan site, which was not very complimentary or truthful, has annoyed the remaining residents quite a lot.
We the residents have decided to let you, and your public know what it is like to live at Finchale Priory.
Now that we are not bothered by snoopers, life is drifting back into the pleasant and friendly routine that was our good fortune in the past.
There are a mixture of young and old people living here, and although the Welsh family help young and old alike without any thought of gain, the older people are fortunate in having a landlady like Mrs Welsh who doesn't only help them if they hit financial or material troubles, but also gives them friendship and the care that is often lacking in the lives of the old.
To quote the number of times she has taken sick children into her house, loaned money without receiving any back, had her kitchen literally stacked to the ceiling with people's washing, which she has done herself free of charge, would fill your paper ten times over. She is a person to whom helping people is second nature, and she will not shirk from any dirty jobs which are necessary to keep her residents' homes in good condition. She has herself cleaned out people's drains which were blocked with old grease and other human waste, a job which you will agree would not be envied by the lowest labourer.
As well as this constant caring for our needs it was extremely pleasant for us all to be invited into her house to have a drink and a meal on the occasion of her daughter's birthday. This gesture was pleasantly received, especially by the single and perhaps more lonely people on the site.
We would like to thank you for receiving this letter and publishing it, feeling that in some way we have helped to repay the Welsh family for everything they have done for us.
The residents.
Finchale Priory