Groundhogs
You may have noticed in last month's Muther Grumble an advert for Amon Duul II at the City Hall, with 'Cancelled due to illness' stamped all over it. Well (long pause after that ludicrously long sentence) Muther Sun Promotions (no relation) managed to get the Groundhogs to fill their vacant date. The show opened with Spyda, a local group, who were remarkably good, they still have a long way to go but to have created so much more or less original material from within the antediluvian Newcastle scene is no mean achievement. They were followed by Ellis, a strange mixture of acned (or hackned) childhood teenybob hero Steve Ellis, one time lead vocalist of topline underground freak band the Love Affair. Remember 'Everlasting Love' (pause while you wipe the page clean) and ex (and very much ex) looner Zoot Money. As a certain wise man said, 'es grown is 'air and gone underground' and what an awful band. I mean they weren't untogether, it's just they all seemed to be playing different songs. Before they started, Mr Money put things on the right footing by saying 'we're not superstars' and if that wasn't enough went on to add that it wasn't his Ferrari outside. Anyway I'll get on to the important bit. The Groundhogs. I think before I go any further I must point out that the Groundhogs are really Tony McFee + bass and drums - and that's about all you can say about the rest of the group, they are there to back the 'master' and nothing else.
He opened with 'Split'. Now I must hand it to the guy he can handle a guitar and the band is tight and I started to enjoy things, but after half an hour of excerpts from Split, Hogwash, Thank Christ for the Bomb etc things got more and more monotonous. He used a variety of guitars but they all seemed to produce the same tone and then - wait for it - he moved over to a melletron. Wonderful I thought, the hall filled with rushing waves and howling winds but not much else, so he picked up his guitar again and things went back to tedium. As a final insult he made a pathetic attempt at 'The Star Spangled Banner' (immortalised by Hendrix) and after one encore went away, and so did I.
---
The Incredible String Band
NO RUINOUS FEUD - THE INCREDIBLE STRING BAND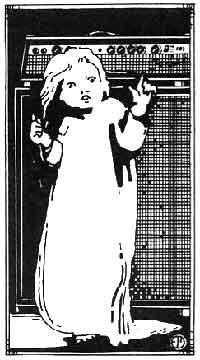 This is the first String Band album to include their new member Gerard Dot. And as heavily published in the musical press it is also the first to be produced by Mike Heron, and so we are now being presented with the new look String Band designed to appeal to a wider audience. This, Mr Heron thinks, can best be done by laying down a steady rhythm, with the help of Greyhound (remember the reggae version of Moon River). As implied the album starts off with a thing called Second Fiddle (presumably played by the String Band) as Greyhound go through their reggae bit with little or no regard for musical content or anything else. A good beginning you may be saying to yourself and if you are you may be disappointed for despite Greyhound and Mike Heron's production the true worth of this truly Incredible band does manage to shine through notably on Malcolm's Down Before Cathay and also on Turquoise Blue and Little Girl, two songs by Mike Heron. So far I haven't mentioned the other former member of the String Band, Robin Williamson whose irrepressible voice and musical composition has been remarkably reduced upon the last two albums and even more noticeably on this one. Robin's beautifully original style which relied heavily on a loose and often difficult to comprehend rhythmic pattern, doesn't fit at all well into the new look String Band and his songs begin to sound somewhat smothered though his work imagery has lost none of its power. Altogether I find this a disappointing album though it has its brighter moments, but I shall be very careful indeed about buying any more String Band albums if the present regime continues.