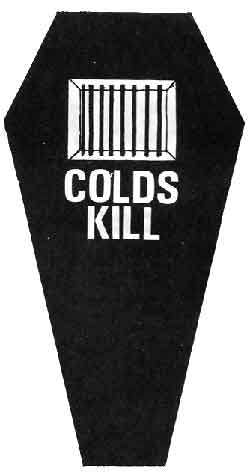 The inquest on Henry Whisker, a prisoner in Durham Jail who died in Dryburn Hospital last December, appears to have succeeded in calming the fears of anybody who might have been disquieted by the case and to have killed any interest the local press might have had in the affair.
The chief difficulty about this inquest, and the reason why it had been adjourned for a police investigation, was that Henry Whisker's father had noticed bruises on the body - on the face and knees - and also a cut on the nose. So the prison's chief medical officer, prison warders, some student nurses and a policeman were assembled to disprove any allegations of foul play.
Dr Fidian, the chief medical officer of the prison, gave some interesting evidence. He said that the first time Whisker complained of ill health was on Sunday 10 December, when he had a sore throat and a raised temperature but showed no signs of pneumonia. The doctor prescribed a cough medicine and told Whisker to stay in bed. By the next day there were signs of bronchial pneumonia and Dr Fidian said he prescribed an antibiotic which caused the patient's condition to improve considerably by the afternoon. But by 9am the following morning Whisker had developed bronchial pneumonia again, his face was cut and bruised and there were patterned bruises on his knees. Dr Fidian recommended he be transferred to Dryburn Hospital - where he died early the next morning (13 December).
Two prison officers gave evidence to the effect that Whisker had fallen out of bed while delirious and had landed on his knees and face, thus causing the injuries his father had noticed. The patterns of the bruises on the knees apparently coincided with the weave of the plastic bedside mat.
Another prison officer who had escorted Whisker to Dryburn (to prevent him from escaping?) testified that he had spent most of his time in the hospital in a state of fighting delirium. Two student nurses confirmed this and were asked to relate in some detail how they had to prevent him from getting out of bed and how his strenuous resistance caused one of them some minor injuries. Other witnesses included a policeman, who had seen the body shortly after death and who, for some reason, was in possession of the very mat that Whisker had fallen onto while delirious in the prison hospital. This police officer was apparently stationed at Peterlee and had been summoned to the hospital in the capacity of special investigator. He saw the body before Whisker's parents were asked to identify it and stayed around afterwards to comfort and, of course, to reassure the bereaved. It was only at this point in the hearing that the police investigation into Whisker's death, which according to press coverage seemed to be the most important part of the affair, was mentioned. The same policeman was also the spokesman for the enquiry.
Having heard the evidence from these people, the coroner gave a verdict of accidental death and with it his assurances that the matter would be pursued no further. The only person who had raised any objections was Henry Whisker's father, Mr Christopher Whisker. He was not allowed to make a statement since he had made one at the previous hearing but was able to question the witnesses, which he could not do very constructively because he had been given no legal advice and was not represented at the hearing by a solicitor. He could only try to put his case but was invariably silenced by the coroner on the grounds that he was making a statement.
No doubt the hearing was conducted with the utmost legal propriety, but this did not make the treatment of Mr Whisker any less offensive. He was made to look like an ignorant upstart and a trouble maker by a gathering of educated people who ought to have known better than to allow a man to be persistently confused by their own expertise.
There is of course no particular reason to doubt most of the evidence given by the witnesses, which, in any case, centred mostly on what happened at Dryburn Hospital; (and by the time he was admitted, it seems the lad was too ill to survive). What should have been the main point of the enquiry was hardly discussed at all. How it was that in Durham Prison a healthy young man succumbed to acute bronchial pneumonia in two days and, when hastily transferred to a general hospital, died? Perhaps Dr Fidian could have been more informative on this point, particularly if questioned by a solicitor. A large number of Whisker's fellow prisoners felt strongly enough about his death to arrange a sit-in. Why did none of them give evidence? - or does a conviction destroy a man's credibility for ever?
Many aspects of this affair remain scandalously unexplained simply because the people most concerned were unable to fight and people capable of fighting were not interested. Law, we are told, is designed to protect the weak from the strong.