Mr Case and his family moved to the north-east 4 years ago. As he had nowhere to live he was housed temporarily in a council hostel for problem families in Birtley.
After a year Chester-le-Street RDC gave him a council house in Felton. When he moved in Mr Case noticed a crack in the ceiling of one of the bedrooms. He reported it, but nothing was done. Gradually the crack spread the whole length of one wall and when it rains water runs down the walls, soaking the curtains and bedclothes. The room is unusable - even in dry weather there is a 2' wide damp patch the whole height of one wall, and damp patches on the opposite wall.
Mr Case claims that neither the council or welfare is interested in his home because his family is classed as a 'problem' one as he spent a year in temporary housing.
Two years ago Mr Case wrote in desperation to the Journal's Action Desk. They replied that the house was due for modernisation soon and not to worry.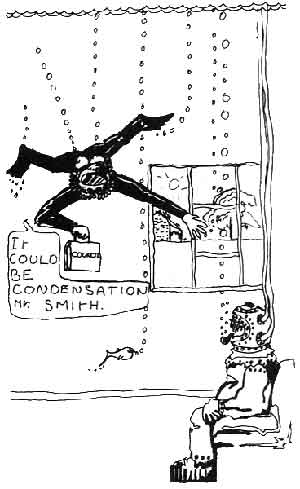 It is rather difficult for Mr Case not to worry. He has chronic bronchitis and asthma, and has been unable to work for six years as his doctor insists that he should stay on the sick register. His wife also suffers from chronic asthma.
Being on the sick Mr Case gets just over £17 a week and pays £2.88 a week rent. From this he has to clothe and feed a wife and two daughters aged 12 and 14. Recently he had to keep one of his daughters home from school because he couldn't afford to get her a pair of shoes.
The social security gave him £1.50 to buy a pair.
Because of his condition and the condition of the bedroom, Mr Case is sleeping downstairs in a cupboard just big enough for his bed.
His wife and two daughters sleep in the other bedroom upstairs.
When they called in the health inspector he remarked - with genuine insight - that the cupboard was an unhealthy place to sleep, and suggested that Mr Case should sleep in the living room.
Mr Case said it was very draughty. The inspector replied that of course it was, otherwise the fire would go out.
We decided to ring up Chester-le-Street council to find out why they were ignoring Mr Case.
The surveyors department (repairs) had never heard of Mr Case. There was no record of any complaint. Did he have a ticket? A what? He should have got a ticket with a number on when he made a complaint - if he hadn't got a ticket then he probably hasn't made a complaint. But he's been complaining for 3 years ... Well, we haven't any record of it.
The health department wouldn't talk to newspapermen, but the Town Clerk would.
At first he couldn't remember Mr Case, but when we mentioned that he had to sleep in a cupboard he did remember. 'Oh yes, the health inspector went to see him about a year ago - he seems to have rather a phobia about sleeping in draughts'. He didn't know anything about a hole in the ceiling, but said he would get an inspector to look into it.
A few days later we rang back. Apparently the inspector hadn't seen a hole in the roof, just a small hairline crack in the ceiling, that a bit of Polyfilla would mend - nothing serious. Admittedly there was a stain, but no real dampness. As it was an internal crack it was Mr Case's responsibility. But surely, we pointed out, as there was dampness running down the wall it was reasonable to expect that it was coming in from outside, in that case it would be, and the inspector would go back when it was raining. Meanwhile it was suggested that Mr Case sleep upstairs - asthma and bronchitis and all.
Quite incidentally, we have heard that Andy Cunningham's luxury home in Chester-le-Street is carpeted in the same carpet as Durham County Hall. We are sure this is not true.