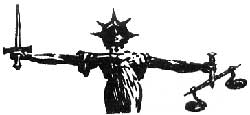 Without the following people this Issue might never have been so ridiculous!
Ian. Don, Andy, Brian, Geoff, Pat, Cliff, Tony, Ted, Sian, Paul, Chris, Bill-ian, George, Pete, Pauline, Pam, Marion, Linden, Malc, Jim, Rich, Ol' Jack, Mole Express & G.P.O. for putting the Phone back again.
The Front and Back Covers were Designed by Brian who is available for freelance work, if you're interested contact M.G.