Lord of the Flies and the Spiders from Mars
David Bowie - City Hall, Newcastle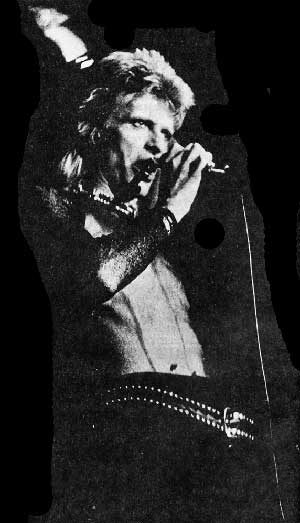 Got down a little late this time, but when I finally made it 'Stealer's Wheel' were onstage apparently doing their thing - which didn't particularly seem to be everybody else's thing. Considering all the airplay they've had recently (which sounded OK) what I heard of Stealer's Wheel live won't sell many albums for them. Whoever mixed raw material like that into a reasonably good album must have been some engineer. Stealer's Wheel just sounded like another of those overloud, unbalanced, boring bands.
However 'Fumble' who preceded Bowie's appearance were amazing. A band who can hold an audience rocking for an hour while they sit awaiting a superstar must have something. Fumble's something appeared to be rock 'n' roll, making it a real shame about those seats 'cos with numbers like 'Mary Lou', 'All Shook UP' and 'Good Golly Miss Molly' you feel like maybe you want to do more than sit and stare. At this show the old rock 'n' roll standards were more than just a nostalgic trip. Fumble raced from one to the next recreating the sound of those original 'juke box' hits.
It's a pity that the half-hour break seemed to dispel all the fun and excitement that Fumble generated. Bowie appeared on stage as the darkness was shattered by a strobe and a battery of flash-bulbs. The audience who had been waiting patiently (?) rose to their feet.
Into the first number sped the Spiders; a rolling 'Let's spend the night together' but I don't suppose they really meant it. Ronson's guitar burnt rhythm through the already warming atmosphere. A chick jumped to the stage at the invitation only to be met by a quick backstep as Bowie rose from his knees, withdrew his band and left her careering into the side of the platform. Multicoloured strobes blasted from above as Bowie stalked the stage in his cat suit, flaunting his body to the drooling crowd.
Continuity was achieved throughout the set as Bowie & the Spiders worked through album and single material. 'Gene Jeanie' was received with the expected hysteria, Bowie now vocal, tambourine and harmonica. Things exploded with 'Suffragette City' followed by the inevitable but unbelievable goodnight. As people began to realise it was over the applause swelled, reaching a climax as Bowie led the band back for an encore of 'Rock 'n' Roll Suicide'. This time the short 'bye-bye' was met with thunderous applause - the show was over.
********************
New Albums
'History of Fairport Convention' Island
History of the Fairports was coupled in its release with Dave Mason's 'Scrapbook'. The album retails at £2.49 and considering it's a double, that's not bad. For me this album is a collection of my favourite tracks from six of the seven already released from the fast changing 'Fairport' line-up. The album is packaged in an extremely attractive sleeve, which has on the front cover a Fairport family tree. Fairport Convention formed back in 1967 and when Judy Dyble left in 1968 she was replaced by the exceptional Fairport vocalist 'Sandy Denny'. The tree is easily traced and one can see the liquid personnel forming bands such as 'Fotheringay', 'The Bunch' and 'Steeleye Span'. Fairport Convention 7 formed in Feb 1972 with the current line-up working on the new soon to be released album 'Rosie'. There's a taste of things to come on History. 'The Hen's March / The Four Poster Bed' have been added to the History album although they are in fact on the new long awaited album. These two tracks are traditional jigs and certainly provide a showcase for Swarbrick's violin and Dave Pegg's bass playing ability.
This album holds a varied selection of the band's work ranging from the traditional jigs to the more heavy folk rock side of Fairport with numbers like 'Walk Awhile' (Full House album) and numbers that fall in between the traditional style folk and rock folk as surely 'Meet on the Ledge' (What We Did on our Holidays).
I find straight folk rather hard to sit and listen to but Fairport Convention offer to me a little more scope to become involved in the music style. Here's an album which is a bargain if you're the same in the way that you've always liked certain tracks from the band but never enough to acquire an album.
TRACKS ON 'HISTORY OF THE FAIRPORTS'
Tracks. Side 1. Meet On the Ledge, Fotheringay, Mr Lacey, Book Song, Sailor's Life.
Side 2. Si Tu Dois Partir, Who Knows Where the Time Goes, Matty Groves, Crazy Man Michael.
Side 3. Medley: The Lark in the Morning, Raccish Paddy, Foxhunters Jig, Toss the Feathers, Now be Thankful, Walk Awhile, Sloth, Bonny Black Hare.
Side 4. Angel Delight, Bridge Over the River Ash, John Lee, Breakfast in Mayfair, Hanging Song, The Hen's March /. The Four Poster Bed.
'THE GRAND WAZOO', THE MOTHERS, BIZARRE / REPRISE
After eighteen albums, Zappa's music is finally starting to move in the direction he has always favoured. One of the reasons for the lack of acceptance of his work has been that he has always found it difficult to contain all of his talents. One minute he's producing a record like 'Hot Rats' and the next time you turn around he's recording something like 'Live at the Fillmore'. The most easily acceptable bands are those who find a formula and stick to it without looking any further. Zappa's never done this and it's part of his strength.
This latest album is over 38mins long and has only 9mins of 'songs' on it. The rest is a selection of amazing blows that are made up of Zappa's personal blend of 'rock', 'jazz' and electronics.
On this album the Mothers is a twenty-two piece band. Some old faces but mostly new ones. The approach you must use to this record is the same you have to have to any of Zappa's work: be open and be wide and you're gonna come away smiling and lifted. The effect it leaves me with is the same I'm left with after an incredible orgasm - and surely that's the function of the music.
NEU United Artists UAS 29396
NEU are a German band consisting of two former members of Kraftwerk, Klaus Dinger and Michael Rother. With the release of this, their first album, NEU have joined Amon Duul and Can to become one of Germany's top groups. I find the adulation a trifle premature on the basis of one record, even though it is rather good.
Basically, it's music to listen to whilst stoned, or, for unfortunates, music to daydream by. Side one is a relaxed meander into the realms of hypnosis, with pulse-like drumming and floating guitar dissolving reality. Side two is an extension of this with more variation, although the album is marred somewhat by the last track Lieber Honig which is quite detestable. However ignore this track and all's well.
HOT LICKS, COLD STEEL AND TRUCKERS FAVOURITES, COMMANDER CODY AND THE LOST PLANET AIRMEN - PARAMOUNT EMI
'Truck Stop Rock'. There's a blending of blue grass with rock 'n' roll, and this should be an album for either country freaks or rockers. Commander Cody (George Frayne) and his seven airmen use a wide selection of instruments, sax, electric and acoustic bass, piano, pedal steel guitars, drums, harmonica and fiddle, over which are laid some earthy vocals and harmonics.
The songs relate to the lighter side of a truck driver's life with the music varying in tempo from a hoedown to a lazy New Riders sound. This album, along with his previous release, 'Ozones' are well worth a listen.