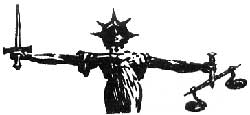 A few weeks ago 350 prisoners in Durham jail staged two sit-ins hoping to draw attention to the circumstances in which a 21 year old man, named Henry Whisker, died following his transferral from the prison to Dryburn Hospital. The prisoners got various malicious punishments (ranging from solitary confinement to withdrawal of remission) for their pains, but the man's father has contacted his MP and is demanding a Home Office enquiry into the matter.
Henry's father, Mr Christopher Whisker, was summoned to Dryburn Hospital on December 13 and told that his son was seriously ill. Half an hour after he arrived he was told that his son was dead. When he saw the body, ostensibly immediately after death, Mr Whisker, who has worked as a mortuary attendant and an ambulance driver, claimed that his son had been dead for about two days. Also, his face was bruised and his nose appeared to have been broken.
The official version, compiled from police and hospital sources, seems to be that Mr Whisker went down with a heavy cold, was put in the prison hospital and then transferred to Dryburn on December 12 with, in the words of a hospital spokesman, "a two day history of a cold". He is supposed to have died the following day. It was admitted that "there was slight bruising over the bridge of the nose ..." which "could be consistent with the use of an oxygen mask or something of that sort".
The post mortem revealed that death resulted from natural causes.
There was then a police enquiry which concluded that the injuries Mr Whisker had noticed on his son's body were sustained when he became delirious and fell out of bed in the prison hospital.
The inquest, on 25 January, concluded that Harry Whisker had contracted bronchial pneumonia, and passed a verdict of 'death from natural causes' which was predictable, for those who maintain law and order never lie, do they?
If they are vindicated then we are left to think upon the excellent facilities provided for those who fall ill in her Majesty's prisons. Meanwhile those incumbents of Durham jail who are unfortunate enough to contract a common cold would do well to make their peace with the almighty.