It is estimated that over 700 prisoners are released in the north-east every year. The majority of these are under 25 years old and have no real place to go. However there is a hostel for them in Newcastle but it only holds 14. 'Nuff said!
********************
The modernisation of council houses in the area goes on, and the prices builders are asking - and getting - keep on rising. And funny things happen ...
Burnhope is a small village in Lanchester RDC and the houses there are about to be modernised. About a year ago several tenants applied for, and got, permission to put their own central heating in. Then came news of modernisation, and they were told their heating would be ripped out and the council model put in.
So, after modernisation, they will be paying off the instalments on heating they won't even have.
One of the tenants went down to challenge the council. He was told by an official that he had never had permission to put in central heating - although the form giving permission was signed by this very official.
The council later changed their story and said that permission had been granted before modernisation was even considered. In fact one of the tenants had received notice of modernisation three days after getting permission to install central heating.
The council then agreed to a meeting with the tenants - to which the press were not admitted - on the condition that the subject of money should not be raised. Naturally it wasn't a very constructive meeting, although one of the tenants was called a troublemaker by the Chairman.
Latest development: a tenant has been told by the council that he ought to take out his central heating before the council do the modernisation. Then, after they have put in their model, he can take that out and put his own back in.
Modernisation costs about £3,500 per house.
********************
The Scotland Yard fraud squad, sent north to investigate the Poulson case, have set up their headquarters at Morpeth. One of the first places they will investigate will be Felling, where they might make some interesting discoveries.
At any rate it seems that the local council aren't too willing to be investigated. Nearly four months ago they set up a sub-committee to investigate any suspicious dealings between themselves and Poulson. This sub-committee hasn't actually met yet - according to one councillor it has been impossible to find a free evening. Did you know councillors worked THAT hard?
********************
One in eight men who die in Newcastle die of lung cancer - and the death rate from lung diseases in Newcastle is 30% - 40% above the national average. And it is industrial pollution that is killing people.
The north has the highest smoke concentration in the country and Newcastle's air contains about 2½ times as much smoke as London's.
********************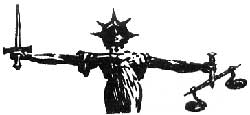 This is how the law works ... recently a Detective Chief Inspector from Northumberland was up on a drinking and driving charge. He had been stopped by a junior policeman when his car was "keeping an unsteady course". He submitted to a blood test, and was found to be over the limit. However his defence claimed that there was insufficient evidence for stopping him in the first place, and the case was dismissed.
Two days later north-east police confirmed their policy of not carrying out random breath tests - despite a High Court ruling that these are not illegal.
And if it had been you ...?
********************
Maybe the biggest crime since the last war is over - maybe ... The Vietnam War has cost the Americans 110,000,000,000 dollars and 46,000 American lives. No-one knows how many Vietnamese have died.
********************
Vapona fly strips contain DDVP - a chemical which acts on the nervous system in the same way as nerve gases.
DDVP is more dangerous when inhaled than eaten, and can have serious effects on people with liver diseases.
Shell's own research has shown that the concentration of DDVP in the air during the first two weeks of the use of a Vapona strip is above the permitted level for children.
Vapona type strips were cleared by the Ministry of Agriculture in 1967: both the Ministry and Shell refused to disclose the evidence (supplied by Shell) on which the decision was based. It is possible that DDVP can cause cell mutations: but the necessary experiments to prove whether the long-term exp0osure of animals to DDVP in the air can cause mutations wasn't done before Vapona was marketed. Shell started these experiments last year.
Vapona is just one of many toxic experimental and often unnecessary chemicals thrust upon us. Are they necessary? Is it not time we stopped allowing ourselves to be used as guinea pigs?
For more information contact FOE Consumer Unit - Colin Clews, Fulbeck Grange, Peacock Gap, Morpeth.