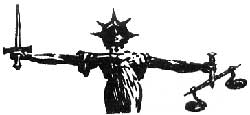 Recently a woman with two small children came up to the MG office. She had had a quarrel with her family and had arrived in Durham homeless. She had the chance of a job, but nowhere to live.
She went to the Social Services for help - they said that they could take the children into care temporarily and put her in a hostel or old people's home until she found permanent accommodation. They seemed surprised when she didn't come back, and clearly considered her case wasn't urgent because she was unwilling to have her family split.
Durham Shelter group had heard that there were a number of empty council flats in Spennymoor, and asked the housing department if she could have one. There was an office party going on at the time, but eventually they found someone sober enough to say no.
She had in fact fallen right into the bureaucratic trap - the game of pass the buck with homeless families that goes like this:
The Social Services department has a duty to provide temporary homes for people who are evicted or are homeless; this is known as part 3 accommodation. In County Durham the part 3 consists of 9 flats in the old workhouse at Houghton-le-Spring. Some people have been in part 3 for over a year - which means that the 9 flats are grossly inadequate, and when they are full, a homeless family has to be split up - the children put into care, and the parents in hostels.
The Social Services is a county council department, and although it has the duty to provide temporary accommodation, it has no powers to provide permanent homes: this is the job of the district councils - the urban districts and rural districts.
The Social Services claim that their facilities are inadequate only because the district councils are not doing their duty. They say that if each district council was to rehouse one homeless family per year, then there would be no problem, and part 3 would be what it is supposed to be - temporary accommodation.
So, hearing about these empty flats in Spennymoor, we went over to see why Spennymoor UDC couldn't rehouse one family a year.
They admitted that there were about 30 empty flats at the moment - but that they were all on the top floor. And the council had recently ruled that families with children under 10 should not be allowed to have these flats. So, we said, if a homeless family with no children under 10 came to you, you could rehouse them. This was too simple - to qualify for rehousing in Bessemer Park one had to be resident in Spennymoor for 3 years. But the flats were empty because they couldn't find anyone in Spennymoor who qualified? Yes, but they had these rules, didn't they, and they couldn't make exceptions, or everyone would want to get in.
So we challenged them with what the Social Services had said about the bottleneck - surely with 30 empty flats they could rehouse at least one family a year?
Well, they wouldn't consider anyone unless they had been a resident of Spennymoor in the past and had been evicted ... and they were very unlikely to take anyone back who had been evicted as they knew their past record. Neat isn't it?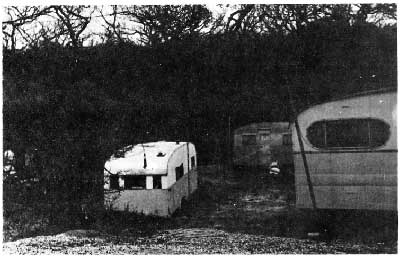 But, said the man, I don't know why you are picking on us, as all local authorities are the same. That, we said, is the point.
So all the authorities try to shove the problem under the carpet rather than accept responsibility for homeless families.
And one way of getting rid of people is to recommend them to dumping grounds - substandard accommodation willing to accept anyone. One such dumping ground is Finchale Abbey caravan site - homeless people have been told "why don't you try Finchale?"
Yet Finchale hardly reaches a desirable standard of hygiene - and if a tenant tries to kick against his conditions he gets nowhere.
A man living in one of the caravans applied to the Rent Tribunal to have his rent lowered. This was at the beginning of December. Several times after this, Mrs Welsh asked for his key back and tried to get him to move to a different caravan which he refused to do until after the Tribunal hearing. At New Year he went out in the morning and came back in the afternoon to find that his caravan had been towed to a different part of the site, and all his belongings were in Mrs Welsh's house. These had had to sign for and he claims two letters are missing.
That night he had to sleep out, but the following day got put up with friends in Sacriston.
He went to the police and complained of harassment, but only got as far as the desk sergeant who didn't seem very interested, and he's heard nothing more. He then went to the clerk of the RDC - Mr Moorhouse, who didn't seem interested - which is not surprising as he said that Mrs Welsh had said several times that she was acting on Mr Moorhouse's advice. Mr Moorhouse suggested he see a solicitor.
Next he went to the rent tribunal - who give you security of tenure until your case is heard - but they said they did give security of tenure, but had no power to enforce it.
He then went to a solicitor, who advised him to wait until the rent tribunal hearing until taking action.
Finally on Jan 15 came the tribunal hearing. The Commissioners and the tenant went to Finchale to inspect his caravan. Mrs Welsh was there to meet them with a solicitor. The solicitor said they had no right to inspect the caravan, so they all went away again. The tribunal then ruled that the caravan didn't come under their jurisdiction anyway as it was moveable. The case was dismissed.
In fact he should have applied to the county court for protection under the 1968 Caravan Sites Act but no-one told him that, so now he has no home.
To this man it appears that there is an organised conspiracy to keep him from getting a good home. Is he wrong when no authority will take responsibility for him?