Pretty Things - Freeway Madness (Warner Bros)
This is an album you can sing to, tap your feet to, copulate to, or even lie back and let it all hang out to. However if you buy it and decide that you don't really like it - due to this review - then please send stamped addressed envelope to Warner Bros quoting the dimensions of your complaint. No really, Phil May and the lads put this one together nicely.
There's a wide selection of tracks ranging from yer rock n' rollers like 'Religion's Dead', to softer country sounds like 'Country Road' (a nice pedal steel geetar). Following that 'Allnight Sailor', which with its simulated scratch at intervals tends to slip your head a groove. Overall - yeah it's a goodie!
Side 1 Love is good, Havana Sound, Peter, Rip off Train, Over the Moon.
Side 2 Religion's Dead, Country Road, Allnight Sailor, Onion Soup, Another Bowl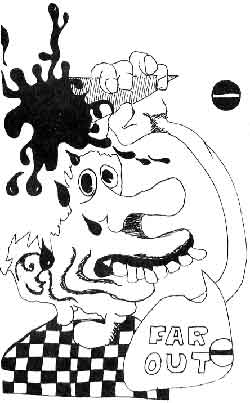 Grateful Dead - Live in Europe
This triple album is at present a Warner Bros import. Release date in this country is scheduled for middle of January. Tracks include lotsa new material + old favourites. Recorded on Dead's last European tour.
Barclay James Harvest - Baby James Harvest (EMI SHSP 4023)
Here we go, BJH complete with a 60 piece orchestra, although on all but two tracks it's the usual BJH line-up. Again the usual album - some numbers worth listening to and others just background music, BUT (and there's always one of those) 'Moonwater' on which the orchestra is featured is a composition designed to tear at your heartstrings. (It's those violins.) 'Moonwater' renders a series of climaxes followed by a crescendo that bursts a whole orchestra into your bedsit / living room / head. (Please delete those not applicable.)
Final caution - The after effects can be devastating / addictive / OK or maybe suffering from a little too much you'll crash out and leave your record player on all night.
Side 1 Crazy Over You, Delph Town Morn, Summer Soldier
Side 2 Thank You, One Hundred Thousand Smiles, Moonwater
Ceolfrith
SUNDERLAND
The Ceilfrith Arts Centre has been celebrating their new lease of life with a series of fine events. At the Londonderry Hotel on Monday 27th Nov Sticky George, ably backed by Roger McGough (a scouse), played to a full house. Sticky George had a good sense of humour even if their music wasn't always very polished. They write all their own stuff, rely heavily on acoustic guitars with good harmonies worked out using piano, organ, violin, wind instruments etc - in fact a very good group (records available). As for McGough, what kind of guy juxtaposes pork pies with tits and calls that poetry! But seriously, it was a great night, Dylan Thomas himself would have lapped it up, especially the poems which were backed by the band.
As if that wasn't enough, on Thursday 30th Nov we had the opportunity to see the 'Magic Lantern Cycle' - 8 films by Kenneth Anger - at the Empire Theatre; 2 showings, one late night. Anger's films are full of power, menace, beauty and (as he would say) evil. The unsteady, caressing, panning shots of the guy donning his leathers in 'Scorpio Rising' to the tune of 'He's a Rebel' … too much.
Northern Arts Backs a Bummer
If 'Stagecoach' are taking 'kulture to the masses' then I think I'll join the ruling class after having seen 'Mack the Knife' at Wallsend Arts Centre. Contrary to popular myth it seems that the actors, who are very good, don't have much say in scripts. Because of the bizarre nature of the episodes which make up the whole play many people were amused. But Sue Todd and Michael Bogdanov have nothing to be proud of. The play was a totally mixed-up review of the works of Berthold Brecht. If Brecht was a shadow, Mack the Knife was the shadow of a shadow of a …
Santana - Caravanserai (CBS 65299)
Well what can one say after a performance like Santana gave at N/cle City Hall last Wednesday. You can safely buy this album on the strength of the three preceding releases. Guaranteed anytime of day or night music and an album to keep your zonked friends capable of saying at least two monosyllabic words - 'FAR OUT'.
Tracks like 'Every Step of the Way', which Santana's rhythm section gently chugs into and finally explodes with sound are surely among their best works yet. Carlos Santana's lead work on the album certainly deserves another mention despite all the credits he has been receiving in the music press. A superb album and it will counteract all those negative ions flying about on those heavier days.
Side 1 Eternal Caravan of Reincarnation, Song of the Wind, All the Love of the Universe, Pierro de Fuego
Side 2 Stone Flower, Step of the Way, Time to See the Sun
Due to lacking 'Memory Bank' some tracks are not listed.
Books
The Body Politic: (Women's Liberation Writings)
Published by Stage 1 (other publications include 'Little Red Schoolbook' and books on leading revolutionary figures past and present). Price 60p
An essential reference book. Compilation of women's lib writings (all written by women in the last 3 years). There are good bibliographies but no index.
Consolidated Gold Fields Lt Anti-Report
Published by Counter Information Services. Price 25p. Yet another report to damn capitalism to hell; the wealth of relevant facts - trade figures, names of directors, salaries etc is heart-warming.
Stage 1: 21 Theobalds Road, London WC1X 8SL
CIS: 52 Shaftesbury Avenue, London W1