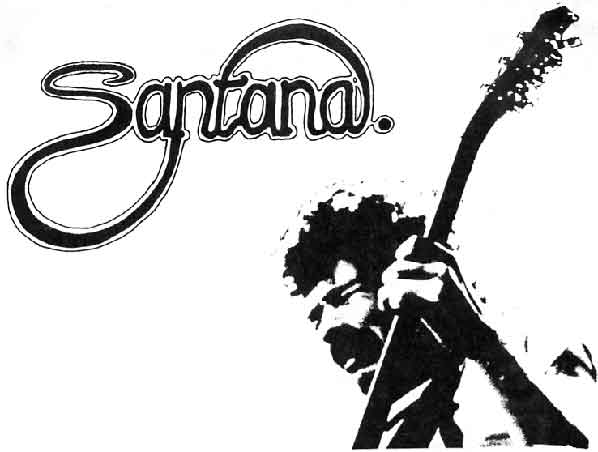 Santana were on at the City Hall on November 22nd, and really showed us the fire brand of musical togetherness that is theirs when they play well. Tonight they played with a spontaneous empathy that made me think they had walkie talkies in their flying fingers and heads.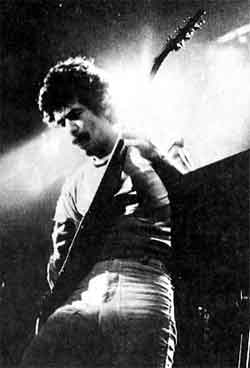 Their renowned drumming is always good for the mind and body and now that they have two keyboard players their sound can be fuller than was possible in the days of their tiger-sleeved first album. I can remember that album presenting me, many moons ago, with an exciting new music of amazing drum and guitar laced with driving organ. To actually see them there doing it is all great fun. Arf Arf!
I liked the playing of both the organ players. They were so much in harmony and time with the guitar that I found I was deciding (as I sometimes inadvertently do at concerts) which instrument was playing what, and discovering as one of them was fronted for a solo, that I had fooled myself!
The drummer did a good solo which must have knackered him and from time to time other members of the group took to percussion instruments; Carlos Santana proving in the process to be a canny gong player.
It's rather difficult, when talking about Santana, not to mention Carlos Santana by name, or at least it is for me because the guitar is the only instrument the group uses about which I know something. It's not Mr Santana's technical ability which impresses itself upon me, but the idea that his playing helps to create in my head of his attitude to the 'playing in the band' bit.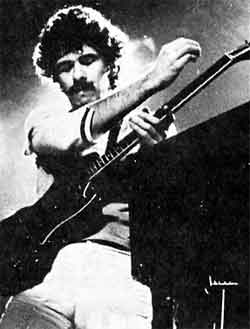 You could see him now and then giving signs to his mates to switch to the next movement (which shows that he must have a lot to do with the writing and arranging) but these signs were really only spasmodic twitchings for it was beautifully obvious that the arrangements were flexible enough to allow for any burst of ideas from the individual.
Carlos (if I may be so bold!) frequently took advantage of this flexibility, but as far as I'm concerned he managed never to take any liberties with it.
Santana is a really nice band, especially for a guitar freak like me, and Carlos' playing tonight often sent ecstatic shivers up me spine which I thought were bound to come out the top of my head and travel to his, saying "Thanks, I hope your band comes to Newcastle again, and be soon I said, be soon!"