Since Newcastle GLF began to meet as a group towards the end of 1971, we have tried to do three main things.

Firstly, to fight against the ways in which society discriminates against gay people. For example:

Gays cannot express their feelings for one another by kissing or holding hands in public because of the danger of harassment by the police or the public.

It is still illegal for gay couples to make love if either partner is under 21 (the age of consent for heterosexuals is 16).

Gays are frequently discriminated against socially or at work if they admit their gayness.

Sex education in schools either ignores gays completely or treats them as sick, abnormal perverts. As a result, young gays are often unnecessarily frightened or ashamed of their gayness because of this early teaching.

Doctors sometimes regard being gay as an 'illness' to be 'cured' through aversion therapy. This fundamentally consists of showing the 'patient' photographs of nude men while giving him powerful electric shocks or forcing him to vomit.

Aversion therapy almost always fails in its purpose at the cost of considerable suffering and only too frequently psychological damage to the person undergoing it.

As a result of these pressures, many of us are forced to live double lives and hide our true natures from heterosexual friends and workmates.

We know that being gay is normal and natural for us. Society discriminates against us, thus it is society that is sick rather than gays.

We therefore believe that all forms of discrimination are wrong and that gays should have complete equality with heterosexuals and we are doing everything we can to bring this about.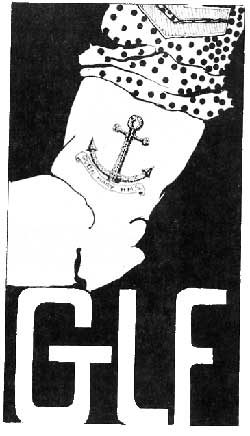 Second, we are trying to give help and advice to gays who are in trouble or worried about being gay, or who are unable to contact other gay people.
Thirdly, we are attempting to improve social facilities for gays, which are rather lacking in the north-east.
Since we started we have, among other things, gained a considerable amount of favourable press and radio publicity, held a debate and a seminar at Newcastle University, advised a number of gays on personal problems, run three gay public dances, established contact with the Samaritans and other similar organisations, persuaded Newcastle Library to put Gay News on their shelves, run two large-scale poster campaigns, organised distribution and selling of Gay News in Newcastle, and given out leaflets in the streets, in pubs and outside cinemas.
Now that we have found a permanent office and meeting place in Newcastle, we hope to do a great deal more and, in particular, to set up a gay counselling and advice service.
If you'd like to find out more about us or if you feel you'd like to come to us for any sort of help or advice, please drop us a line at 258 Westgate Rd, Newcastle, or come along to one of our meetings - they're held every Wednesday at 8pm at 258 Westgate Rd. Hope to see you there sometime.
LIBRARY GOES GAY
Newcastle's city library service is now subscribing to Gay News and putting it on display - but only at the central library and only after the paper has been vetted by a 'senior librarian'.
This follows Newcastle GLF's repeated demands for the library to stock GN with all its other periodicals and newspapers.
At its city's libraries group, Councillor Mrs Marion Abrahams said it would "corrupt children" if GN were put on display in an open room.
She said: "Young boys might get hold of it, and it would not be suitable for them."
Councillor Edward Pugh, the group's chairman, said: "We have to come to terms with a modern community. It may be a tragic age we are living in, but these are the facts of life.
"We are beginning to pull things out from under the carpet where they were brushed by the Victorians who refused to face them."
Reprinted (without permission, but who needs it?) from Gay News