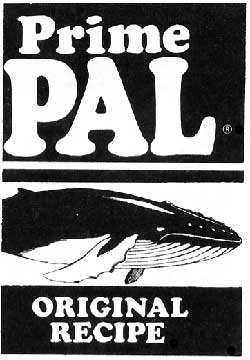 THE FOLLOWING PRODUCTS CONTAIN WHALE MATTER. WE THEREFORE ASK THAT THESE PRODUCTS BE AVOIDED IN FAVOUR OF ALTERNATIVE PRODUCTS. THERE IS A SUITABLE ALTERNATIVE FOR ALL WHALE PRODUCTS. WE ASK THAT, IN THE INTEREST OF WORLD WILDLIFE, YOU CHOOSE THEM.

Do not purchase the following:

Animal feeds: BOCM Silcock - Elgin animal byproducts - 'Delight' petfood - 'Dogs' petfood - Pedigree Chum - Pal - Chunky dogfood - Waitrose meat / liver catfood.

Cosmetics: Elizabeth Arden - Almay - Cyclax - Fisons (pharmaceuticals) - Kilmar cosmetics - Max Factor - Yardley - Bush Boake Allen perfumes - Dana sales - Lentheric - UOP fragrances - Reckitt & Coleman - Boots sun tan oil - L'Oreal sun tan oil - Studio cosmetics.

Other products: Eagle pencils - Peacock & Sons linoleum - Golden Block margarines - Wynmouth Lehr soap - Price's candles - Wilberforce Turner candles …

There are others … if you would like further details on the Save the Whale campaign contact Friends of the Earth (address on Graffiti page).