Muther Grumble would like to apologise to Jack Grassby, chairman of S Shields Trade Union Council. In MG7 his name appears to be attached to the 'Schools Out' article; this is due to the usual rush of our layout. We accept responsibility for the article ourselves, and hope that our mistake didn't inconvenience Jack too much.
---
The house I live in is quite big, there are five big rooms and two small ones. Just as well, since twelve of us live here. The rent is £3.50 a week each, that's 42 pounds a week to the landlord. He'll have the purchase price of the house back in four years: this on top of a thriving road haulage business and a farming enterprise. His name's Mr F Horne (and Son) from West Auckland. Have you got a landlord like this? - if so, we'd like to hear about him.
---
This old pensioner took her shears into her local branch of her friendly Archibalds for sharpening. So they told her they wouldn't sharpen them. She asked if she could get them sharpened anywhere else, and they didn't want to help over this. Instead they suggested she buy a new pair. For only three pounds. Just come off it Archibalds, that's half a week's pension.
---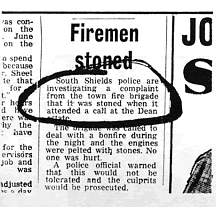 ---
Did you know that the Royal County Hotel in Durham cost £1 ½ million to extend and renovate.
---
Durham Claimants Union are collecting donations for OAP fuel etc this winter, can you help? Send to MG office, 13 Silver Street, Durham. Payable to Durham Claimants Union.
---
Durham Nick will before the end of the century move to more acceptable premises. The ever greedy University will then buy it. Oh! the joys of being a student.
---
Apparently a certain detective constable in the Durham drugs squad has taken to offering long-haired people a lift home in his nice little car. He also offers them those cigarettes with cannonballs resin an' that in them. What a nice man …