Roxy Music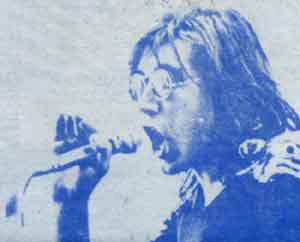 Yes folks, yet another rock giant is being manufactured in the dank and smoky capital of our sceptred isle. But wait! Yes, judging by numerous reviews by such sages of the music 'scene' as Richard (if I like them they must be important) Williams and John Peel, they just might be good.
The band have been together for nearly two years now, but have only recently been gigging. Consequently, much time has been spent rehearsing an act. Already, members have been replaced. Phil Manzanera took over from ex-Nice lead guitar, David O'List; Rick Kenton replaced Graham Simpson on bass and Paul Thompson replaced the American, Dexter Lloyd on drums.
Both Paul and Brian Ferry come from Tyneside.
Brian (vocals - piano) was born in Durham and, in 1969, went to Newcastle University to study Fine Arts. At this time he founded a band called 'Gas Board', old Geordie music freaks may remember from numerous gigs in the infamous Gogo. But soon his two interests could not both be found room for, so he split the band and concentrated on painting.
Late in 1970 he started learning piano, wrote 12 songs and founded Roxy Music.
Paul Thompson (drums) hails from Jarrow. He had been touring the country for some years in bands too numerous to mention, when Roxy Music saw him and asked him to join.
Other members are Andrew Macay (sax and oboe) who also dabbles in electronics, and a guy with the mind copulating name of Brian Peter George St John le Baptiste de la Salle, Eno, who apparently will answer only to Eno. He has graduated from processing raindrop noises and amplifying earthworms to controlling a mass of mixers, tape loops, a VCS3 synthesiser and several other weird and wonderful electronic gadgets from the back of the hall on gigs, and still occasionally finds time to burst into song.
Their music is based on a mixture of 50s rock, electronic burbling of all types, frequently reaching orchestral complexity and King Crimson-like arrangements. The latter is influenced by ex-Crimson founder member Pete Sinfield who produces them.
It seems a successful future lies ahead of them and judging by their first LP, I wish them luck.
The LP is titled 'Roxy Music' (ILPS 9200).
Jim
Flaming Groovies (Newcastle City Hall, July 8th)
The first band was Mr Moses Schoolband - a strange group. Mr Moses himself was very much the act with the band well in the background. The line-up was lead, bass and drums - the drummer doubling on congas. Mr Moses, of course, sang. Material varied from ragtime through blues to heavy rock, with lyrics concentrating either on the beauty of his own body, which he accentuated with a 'musical muscle' act or on the chicks he wished to or had already 'impressed' with it.
Outside influences (or take-offs) constantly showed. They went from such extremes as Gene Pitney to Free, Beefheart to Cocker. He closed his act by throwing his mike stand into the audience. He did one encore which he said he naturally expected.
Next Man delivered a very tight set, consisting mostly of recent material. The music was so together it seemed to lack the immediate interest of groups more dependent on a soloist. Nevertheless, once got into, its intricacy was most impressive - the organ and two guitars tossing riffs back and forth, weaving complex patterns around relatively simple rhythms. All in all a competent set from five stoned downhome Swansea freaks.
Top of the bill were The Flaming Groovies, a band from the American West Coast who claim to have been in existence from the beginning of the rock boom there, but not to have gained the attention received by other bands from that area. I feel their performance showed the reasons for this. They opened with Jumping Jack Flash followed by 'Sweet Little Rock and Roller'. Both practically note for note rip-offs from the Stones. The vocalist - obviously a disciple of Jagger - doing a fair copy of both lyrics and campy sort of movements. Interesting was their own interpretation of 'Shaking All Over'. But then they fell straight back into mimicry with Velvet Underground's 'Sweet Jane'. Later in the set they got into their own music but they had lost the interest of much of the audience, a large percentage of which left long before the end.
Jim
Lenny Bruce (The Essential Lenny Bruce One, ed John Cohen, Open Gate Books, 90p)
Lenny Bruce was a Jewish-American comic, a satirist in the best tradition. The philosophy behind his act was: people should be taught what is, not what should be. He held up the Great American Institutions and exposed the hypocrisy behind them, the true motives. The material in this book is transcribed from tapes made of his performances, and rearranged into topics: Religions Inc, The Dirty Word Concept, What is Obscene, are some of the topics and show the kind of front he was attacking on. Naturally for his pains he was continually harassed, and busted for obscenity: the same boring charge which is thrown at all who are concerned to expose the true motivations of the System, the true obscenities behind the facade.
Little wonder that he resorted to the escape-route of narcotics: this, not unsurprisingly, brought more busts, and eventually killed him: he died in Los Angeles in 1966, aged 40.
The book has a ring of authenticity about it, and I enjoyed reading it. I look forward to a further volume / volumes, but my only complaint is that, for a medium-sized paperback, 90p is rather excessive.
Chris
Lou Reed (RCA SF 8281)
The first solo album from Lou Reed will destroy yr mind given one twelfth of a chance! The strange thing about it is that all of the people on it (other than Reed himself) are English ... so in a sense, this is a new peak for English music. very hard to think of anyone that's not from New York even being able to play these songs.
anyone who's followed the velvets through from andy and nico to the cock-up of 'loaded' (mixed and screwed after lou left) will be able to see the logical follow-thru of all the songs.
no really heavy junk lyrics, but the menace is still there even though it's a slightly different one.
the usually controlled objectivity is still there even though the songs are now of a more 'personal' nature. AND THAT VOICE - those amazing spaces between words - EVEN BETWEEN LETTERS - the best breath in the business bar none (other than perhaps dylan).
and while I'm about it - get a taste of the NEW ALBUM BY THE VELVETS ... long awaited 'live at max's' ... the version of 'pale blue eyes' is far too much for me to even be able to talk about at this moment ... it's only in mono (a bootleg bought from the lady by Atlantic) and very rough ... mo and cale aren't there ... but lou reed is - nuff said? - nuff for me (sound of pants and pants being wet thru) ... BOTH OF THEM VERY VERY TASTY INDEED ... the velvets were, and are still, one of the most underrated of all rock bands ... and it's so good to know that the man behind them is still capable of producing incredible things even though there is a band wandering around trying to pass themselves off as the originals.
Tony