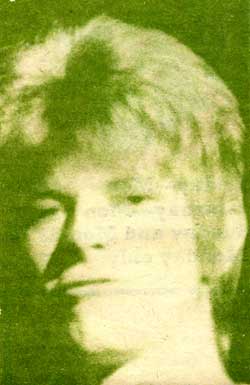 David Bowie
The first part of the show features the JSD Band, a Glasgow group who play mainly traditional reels and jigs. It's very happy music with variations in tempo to folky songs, and in instruments to flute, violin, banjo and cello. The band appear to enjoy playing and are popular with the City Hall audience.
After the interval, David Bowie makes the expected striking entrance and his complete act is mounted with the professionalism of the Royal Festival Ballet, inclusive of choreography and costuming. Full advantage is taken to combine spectacular visuals with precise music. In his performance the physical effect of, for example, Bowie, pale complexion, silky auburn hair, quilted cotton suit in primary colours, accentuated by his backing musicians in similar style suits and kid boots but in subtler pink, powder blue, fuchsia and pale gold, is secondary but only just, to music which is slightly cynical, rather harsh and very clever.
Bowie doesn't sweat and he doesn't jam either. The overall impression is slightly menacing - rather the Faces engineered by Andy Warhol. This influence is reflected in two Lou Reed numbers 'White Light White Heat' and 'I'm Waiting for my Man'. The camp Bowie image is well known but it is erotic rather than sexy, cool, asexual and totally overpowering.
He is backed by competent musicians, all physically attractive, and a lead guitarist, Nick Ronson, almost as exquisite as Bowie himself. The first few numbers include a couple of tracks from the forthcoming LP 'The Rise and Fall of Ziggy Stardust and the Spiders from Mars'.
A carefully colour-matched pianist joins the group for Bowie's current single 'Starman' and (a mimed) 'Changes' from 'Hunky Dory'. The stage lighting until now brilliantly white drops to menacing futuristic reds to fit the ecology theme of the next number.
Bowie and Ronson are now left on stage; he makes a few jokes, delightedly acknowledges a wolf whistle, poses for photographers, and then sings 'Space Odyssey' under moon-blue light, followed by a comment on image and his number on Andy Warhol.
Ronson also splits and Bowie alone on stage, now gives us Brel's 'Port of Amsterdam' hauntingly - no camp.
The others return in sequin tops, plain matching trousers, calf length boots and all rock into the Cream standard 'I Feel Free'. Bowie's rapport with the audience, always good, is now total. He changes to 'White Satin' for a slower number and then flashes into 'White Light White Heat'.
The number following is intended to be the finale but Bowie returns, this time elegantly casual in quilted cotton print pyjamas lightly scattered with sequins, barefooted for an encore of 'I'm Waiting For My Man'.
Linden
---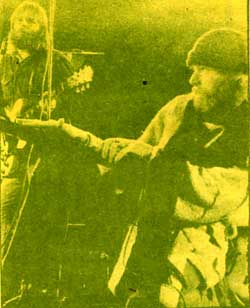 Beach Boys
The first of two shows was only about three quarters full which maybe explains why the Beach Boys didn't really seem to hit it off with the audience until the very end of the set. The crowd were made up of the older Beach Boys freaks who remembered well such numbers as 'I Get Around', 'Help me Ronda' and 'Surfing', and a younger section who had presumably heard of the Beach Boys but associated them more with the new LP 'Surfs Up'. The music and lyrics have definitely changed as have the Beach Boys (head wise) over the last few years with their music now a lot heavier and fuller and the lyrics being a lot deeper, than in their early days.
At one time there were up to nine members of the Beach Boys Roadshow on stage, harmonising, playing tambourines, drumming, or taking part in the rhythm section of the band. Ricky Fataar has now taken over on drums from Denis Wilson after the hand accident that Denis had, forcing him to retire from drumming. Another new addition to the band is Blondie Chaplin who comes in on bass guitar which he seems to be in complete control of, moving and weaving with his music. The band's harmonies are very good but sometimes seemed to be a little loud and drowned the rest of the sound except for the heavy bass.
The Beach Boys' first show was split by a short interval and seemed to progress from their older material onto the more recent material, unrecorded material and new single 'You need a mess of help to stand alone'. In the first half of the show we were given sounds like 'Sloop John B', 'Do it Again', 'Wouldn't it be Nice' and 'God Only Knows' to mention but a few. After the interval the new material gave numbers like 'Let the Wind Blow' - Brian Wilson's prayer set in music, 'Surfs Up' - from the LP of the same name, and the new single. To finish the set the City Hall pipe organ was used on 'Good Vibrations' and it seemed now that the Beach Boys had found the audience, warmed up and were getting into having a good time themselves.
As the first house spilled into the road outside, it was obvious by the long snaking queue and people hassling to buy spare tickets that the second house was going to be a lot fuller and a lot more full than the first performance.
Andy
---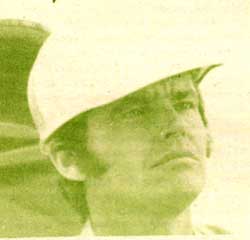 5 Easy Pieces
I really enjoyed this film but then I identified with the main character so I'm being self-indulgent (as always). Robert Dupea is a straight looking drop-out who has rejected the society which he had been brought up to be a part of. He came from a musical background, the members of the family being very artistic and cultural. But Bobbie chose to live in plainer company. Of course he could never become completely 'one of the lads'. Basically he was a loner without roots.
There's some really nice animal scenes (not Walt Disney, sex I mean) and Bobbie's unconventional behaviour in constipated social situations raises some bloody good laughs. My favourite scene is where he plays 'Moonlight Sonata' when Catherine asks him to play something for her; Catherine is a young lady who lives for music and artistic appreciation oozes out of her.
Whilst Bobbie plays, the camera really works to get the audience involved by performing minor key tracking over Catherine's profile, a vase of flowers and some old family photos. When the music stops Catherine is dithering with motions and tells Bobbie how she was nearly turned on by the feeling he put in the music. Bobbie replies that he didn't feel anything, he was just playing the easiest piece he knew. Catherine storms up to her bedroom followed by Bobbie who, totally ignoring her hurt feelings, performs a sexual act on her in the key of G. The film gets a bit predictable at times but it's good meaty stuff and worth a viewing. Directed by Bob Rafelson. Bobbie - Jack Nicholson.
Alan