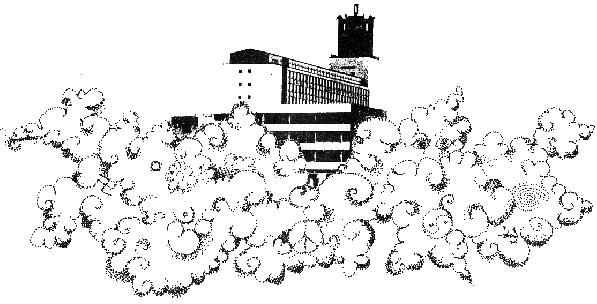 Sadly, and almost predictably, the day the street theatre moved back into Newcastle, the fuzz moved in.
About 20 people, dressed variously as monks, Long John Silver, gurus and just plain freaks gathered on the steps of the Boer War memorial in the Haymarket. We played music, sang, danced and chanted on the lawns of the Church of St Thomas the Martyr on a warm sunny afternoon.
Judy was really into the flute, helped by bongo drums, tambourines and a Jew's harp. Little children from the city were in on it right from the start, blasting away on whistles, tambourines and drums. Some painted their faces or wore stars while others chased away the musicians.
An attempt was made to levitate the grotesque Civic Centre itself but unfortunately the vibes weren't strong enough on that particular day.
However a fairly big crowd soon gathered, not having seen anything quite like this in Newcastle before, and judging by the smiles and laughter, they were getting into it too.
The music lilted and swayed, quickening in tempo until the atmosphere was a bit like a New Guinea war dance. People were really letting themselves and their friends know that they were alive.
But just then, the blue meanies arrived and insisted that the Civic Centre was private property.
One fuzz maintained that someone in the building had complained about the music, and insisted that if we did not move, some of his friends down at the station would help us on our way.
Strange - only caretakers are in the building on a Saturday as a rule unless a visiting party is being shown round.
So that was that. One man looked as though he was going to throw a fit. "Hippies, students, scroungers, queers" he seemed to be saying.
He was old, dirty, and quite alone.
Street theatre will attempt to amuse themselves and hopefully others every Saturday afternoon in the general vicinity of the Civic Centre and St Thomas' Church.