Dear Muther,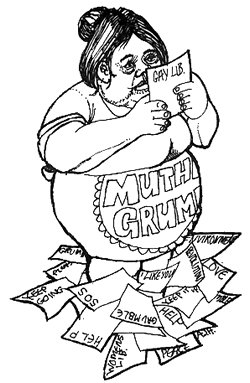 I hope you will take kindly to congratulations from a Liberal who believes we should work through the system but I do think your paper is first class - and may prove to be one of the most significant developments in local journalism.
It is certainly a great improvement on the other underground papers I have seen. These seem, at times, to be intent on creating a violent situation and possibly worse advocate 'pig' hatred with a greater ferocity than Mosley could ever have used against the blacks. Well done and good luck.
Sam

Dear Muther Grumble
Congratulations. On reading your first edition, I thought oh God! Another underground load of rubbish. I was further convinced when reading words like "fuck" and other unusual oddities. Then I began to think, God this paper really has a lot of useful info in it. Pity though the law is bound to bust them, because of the petty obscenity encased in your first edition. But after reading Muther Grumble 2, all I can say is congratulations on being a real underground paper. Good luck in the future.
Lots of love and peace
Jimmy Red (BIT)

Dear Muther,
Having just read your second edition, especially the information on how to thwart abortive activities of certain Durham landlords with fellow students, I thought I'd take the opportunity to get an appropriate dig at a certain landlord of notoriety who invited me to his office concerning my attempts to get a flat next year.
Brimming over with anticipation of my own room next year and what colour scheme I liked, I arrived at the office only to be balled out on this man's every malicious and pent-up frustrations caused by me - "the typical student"(?)
Perhaps this kind gentleman has forgotten where he gets his bread from - students paying extortionate rents for really crapped up property.
Although I appreciate that this man has many worries and probably an ulcer, I dislike this capitalist-student apartheid.
Yours Grumblingly
Jane


Dear Ma
Because of the small number of freaks in the populace as a whole, many heads, especially those in small towns, find that they are isolated from any freak contact, except for 'underground' papers, which can never wholly replace personal interaction.
The Tranquillity Tea Service aims to take the philosophy of love and peace out to people. To do this we are setting up a sort of mobile 'Gandalf's Garden' cum info service, loosely commune-ish, in a converted single-decker bus.
We shall be travelling the highways and byways of Britain, stopping to rap and drink tea with anyone who would like information on alternative services, or news of the freak community at large. We also hope to become a meeting place where people living in the same area will learn of each other's existence.
We shall be carrying small circulation, minority interest, and local magazines, info service broadsheets - but mainly love and peaceful vibes, so that those harassed by a speedy competitive world can take a short rest and recharge their souls.
If you see us, knock on the bus door if it's shut, tho' it most likely won't be; if we're moving stick your hand out!
We are rather one-sided at present - if there are any women who would dig to come with us we'd love to hear from them.
We can be contacted via 7 Summer Terrace, Rusholme, Manchester 14, or if you can phone 061 224 9087 and leave a message; but please don't expect an immediate reply, we will be picking messages up maybe fortnightly, and you might just miss us, but we'll do our best to reply to everyone as quickly as we can.
Love Joe

Dear Muther
Yeast is basically gay people who, regardless of their political inclinations have joined together to form a society for students in Durham. Apart from creating a grapevine through which all friendly gays can get to know one another as intimately as they like, Yeast hopes to create an alternative to the usual heterosexual rut in which Durham students usually find themselves. In doing this they hope to achieve a more general awareness among gay people - that they are gay and should enjoy it.
Newcastle Gay Lib have been very nice to us, as have some women outside the university, who have offered to meet any nice women at any time, under the auspices of Yeast.
Although the society is not politically inclined in any special way, we do welcome members with bees in their bonnets about anything at all and hope to indulge in a little non-futile discussion with our leftist friends in Gay Lib; but Yeast is as Yeast does, so that gives everybody a chance.
The way to contact us is to write c/o Dunelm House, New Elvet, Durham City, and let us know some way we can contact you by university internal mail or enclosing SAE (if you live out) and we will send some nice person to chat you up. Waiting to hear from you soon …
(Yeast also runs a totally anonymous 'advice' service which hopes to comment on or discuss any related problems without a view to converting. Letters should be earmarked 'A' and sent to Dunelm as above.)
Love Yeast